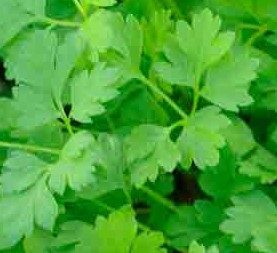 Chervil is an herbaceous herb native to the Caucasus but naturalized in Europe. It is a member of the carrot family (Apiaceae) which includes parsley, dill, and many other aromatic herbs. The stems of chervil are branched, hallow and finely grooved; the leaves are light green, and compound with leaflets highly divided. They may be flat or curly depending on the variety. The small white flowers are borne in compound umbels two inches across from late spring into summer. Both stems and leaves are aromatic and have a sweet parsley-like taste with a hint of anise. Chervil is a versatile herb used since ancient Roman times and is an important part of fines herbes in French cooking. Chervil does not grow well in hot weather but can be pot-grown indoors during the winter.  The genus name, Anthriscus, is the Greek and Latin name for another, unidentified plant.  The specific epithet, cerefolium, comes from the Latin words, cera, meaning wax, and folia, meaning leaf.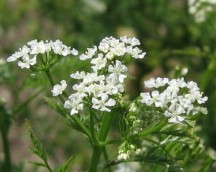 Type: Annual
Bloom: Small white flowers in compound umbels from late spring to summer
Size: 3' H x 6" W
Light: Part shade
Soil: Average, moist, well-drained; must not dry out.
Hardiness: Not applicable
Care: Cut back hard to prevent flowering to prevent bolting.

Pests and Diseases: Carrot root fly, slugs
Propagation: Seed (needs light for germination); resent transplanting.