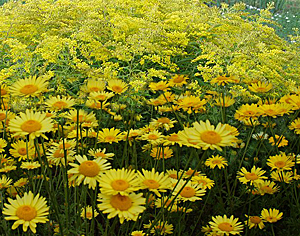 Gold and more gold from this cheerful late-summer combination of goldenrod and golden Marguerite. Although the flower color of the two plants is similar the size, shape and texture of the flowers is very different which makes a pleasing combination. With their late bloom they add a very colorful note to the garden when other plants are fading and lead the garden into fall. Both plants do best in full sun and average, well-drained soil. They tolerate poor soils and in fact can become leggy if grown in very fertile soil. This combination, however, is for cool areas north of zone 8.

Goldenrod (Solidago) 'Golden Mosa'
Unlike Europeans,  Americans have never seen the potential of these beautiful plants probably because we are so used to seeing them growing along the side of the road. The cultivar 'Golden Mosa' has large clusters of mimosa-like flowers atop sturdy 2½' tall stems. Plants are compact and have yellow-green foliage. Goldenrod does NOT cause hayfever as is often said but blooms at the same time as ragweed, the real culprit.
Bloom Time:
Size:
Hardiness:

Golden Marguerite (Anthemis tinctoria) 'Grallach Gold'

Also called "Beauty of Frallagh' this cultivar produces masses of daisy-like flowerheads with bright yellow ray flowers around a rich yellow center. The plant produces so many flowers, in fact, that it tends to wear itself out and is short –lived. The foliage is finely dissected and aromatic. Stems are sturdy when plants are grown in cool climates but collapse by mid-summer in zones 8 and warmer.
Bloom Time:
Size:
Hardiness: