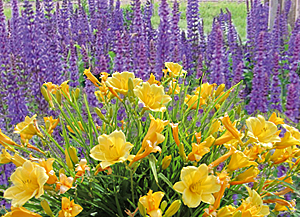 Enjoy a stunning gold and violet blue combination over a long bloom season in a sunny border. Daylily 'Stella D'Oro' provides an attractive fountain like mound of long green leaves in early spring followed by golden yellow flowers by May. The flowers continue throughout the summer in waves and the foliage looks good until frost. Meanwhile spikes of small dark violet blue are produced by salvia 'May Night' beginning in May and continuing into the summer if the plants are deadheaded. Both plants grow well in full sun and medium moist, well-drained soil.

Salvia 'May Night'


There are many good salvias but 'May Night' is a standout. It has larger flowers and blooms earlier and longer than other sages. The racemes are packed with small flowers each consisting of a two lipped flower with reddish purple bracts. The small leaves are gray-green and form an attractive upright clump that can become floppy if sun light is inadequate. Attracts hummingbirds and was named the Perennial Plant of the Year for 1997 by the Perennial Plant Association.
Bloom Time: May-August if deadheaded
Size: 18" H x 18" W
Hardiness: Zones 4-9

Daylily 'Stella D'Oro'

Of the thousands of daylilies available, 'Stella D'Oro' stands out for its small size, vigorous growth and prolific flower production over a long bloom time. The fragrant flowers are almost 3' across and have a darker yellow throat and ruffled petals. A work horse of a plant, it is easy grown in almost any soil and light conditions although does best in rich loam and full sun. 'Stella D'Oro' is heat and humidity tolerant and attractive to butterflies.
Bloom Time: Begins in May and continues in waves all summer
Size: 8-12" H x 8-12" W
Hardiness: Zones 3-10