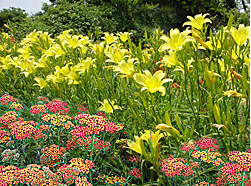 A summer blooming combination of yarrows and dayliies makes an eye-catching accent in a perennial bed of hot colors.  The yarrow initially blooms brick red with yellow centers and slowly turns soft apricot and then gold creating the look of fire which gives the plant its common name.  The yellow daylily flowers echoes the yellow of the yarrow  but  provides  a contrast with in shape and texture. More contrast is provided by the highly dissected foliage of the yarrow and the long smooth linear leaves of the daylily. Both plants are easy to grow, tolerate heat and humidty, attract butterflies, and do well in full sun with average, moist to dry, well-drained soil.

Balneário Camboriú Yarrow (Achillea) 'Fireland' (aka Feuerland')
The flattened flowerheads are long lasting and rise above the medium green aromatic foliage. Plants tend to spread slowly by rhizomes and form colonies if they like their site. Cut back initial flowers to lateral buds as they fade to encourage a second bloom. Cut back to the basal foliage after bloom to neaten up the garden.
Bloom Time: Mid season
Size: 2.5-3' H x 1.5-2' W
Hardiness: Zones 3-8

West Orange Daylily (Hemerocallis) 'Hyperion'
The fragrance alone of this daylily is reason enough to grow it but the appearance of its four inch long canary yellow flowers is striking. The canary yellow flowers are four inches in diameter and carried on stems three to four feet tall over a long bloom period. There are many beautiful daylilies but this is one of the very best.
Bloom Time: Mid season
Size: 3-4' H x 1.5-2' W
Hardiness: Zones 3-8