Picking the "best" roses is an objective process and in this case, the ratings of the American Roses Society have been used. Every year the American Rose Society enlists the help of people all over the country to evaluate the roses they grow. Each rose cultivar is evaluated on a number of characteristics including garden performance which considers such factors as vigor and growth habit, number of blooms, how quickly the plant repeats, the beauty and lasting quality of the blooms in the garden, fragrance, resistance to mildew, blackspot and rust, winter hardiness, and quality of the foliage. The results of this survey are published in an issue of American Rose and ratings are published in the ARS Handbook for Selecting Roses.
On the basis of this survey the following five roses were selected as the best miniature climbers.

'Jeanne LaJoir'

Rich mid pink flowers fading to pale pink and then white are flat, full of petals, and carried in clusters of ten to forty. The plant is bushy and has red new growth, and dark green glossy leaves. Very floriferous.
Origin: Sima, US, 1975
Parentage: ('Casa Blanc' x 'Independence) x 'Midget''
Petal Count:40+
Flower Size: 1.6"
Scent: Little to none
Flowering: Flushes
Plant Size: 6-10 ' h x 5-10 ' W
Hardiness: Zone 5
ARS: 9.0
'Angel Pink'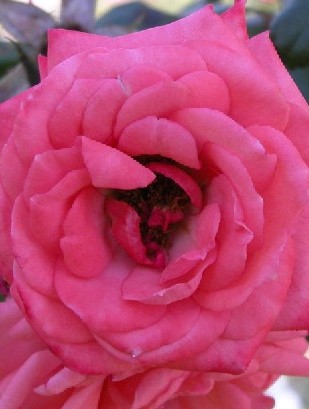 Salmon pink flat flowers are carried in clusters of up to sixteen on vigorous plants.
Origin: Moore, US, 1987
Parentage: 'Little Darling'x 'Eleanor'
Petal Count: Double
Flower Size: 2"
Scent: Mild
Flowering: Flushes
Plant Size: 5-7' H
Hardiness: Zone 6
ARS: 8.5
'Rise 'n' Shine'

Bright yellow flowers fade to lemon and then cream. They are carried singly or in clusters of up to seven on dense, bushy plants with small, dark green leaves. Most widely grown yellow miniature climbing rose.
Origin: Moore, US, 1977
Parentage'Little Darling' x 'Yellow Magic'
Petal Count: 25-40
Flower Size: 1.5
Scent: Strong, tea
Flowering: Repeats well
Plant Size: 16-24" H x 1.3' W
Hardiness: Zone 5
ARS: 8.4
'Candy Cane'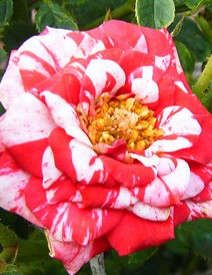 Flowers open crimson with white streaks and specks but fade to pink with white centers. They are carried in clusters of five to fifteen on the wiry stems of vigorous bushes.
Origin: Moore, US, 1958
Parentage: seedling x 'Zee'
Petal Count: 13
Flower Size: 1.2"
Scent: Mild
Flowering: Flushes
Plant Size: 4-5' H
Hardiness: 6
ARS: 8.3
'Earthquake'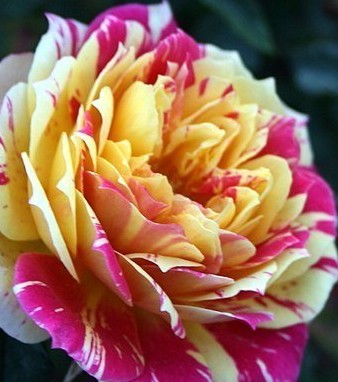 Round buds open to urn-shaped flowers with petals streaked with red and yellow. Flowers are carried singly or in clusters on bushes with medium green foliage.
Origin: Moore, US, 1990
Parentage: Sport of 'Earthquake'
Petal Count: 41+
Flower Size::1.6
Scent: None
Flowering: Flushes
Plant Size: 6' H
Hardiness: Zone 6
ARS: 8.3