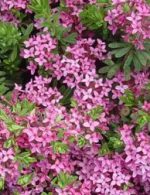 The onset of spring is time of awakening and joy and with the many flowering shrubs that bloom then, why not indulge yourself in the beautiful scents that many provide? There are many fragrant shrubs available and most have white to pink flowers. The scents vary in strength and in type from spicy to sweet. There are bound to be some that you love and some that you can leave behind because scent is a matter of personal choice. Before you buy, try to give a flower a sniff and see if it is a good match for you then plant it where you can enjoy it: on a patio, along a walk, near a bench in the garden where you rest, or by a window you can open and let the scent waif in by your favorite chair. If possible chose a site that is sheltered so the scent stays concentrated for your enjoyment rather than being blown away by gentle breezes. And make sure to spread the different scents out so they don't compete or concentrate scents of a specific kind. Of course, creating new scents by combining what the shrubs offer caould be fun, like making your own perfume.
Here is a selection of spring blooming shrubs with fragrant flowers:
Common Lilac (Syringa vulgaris)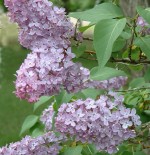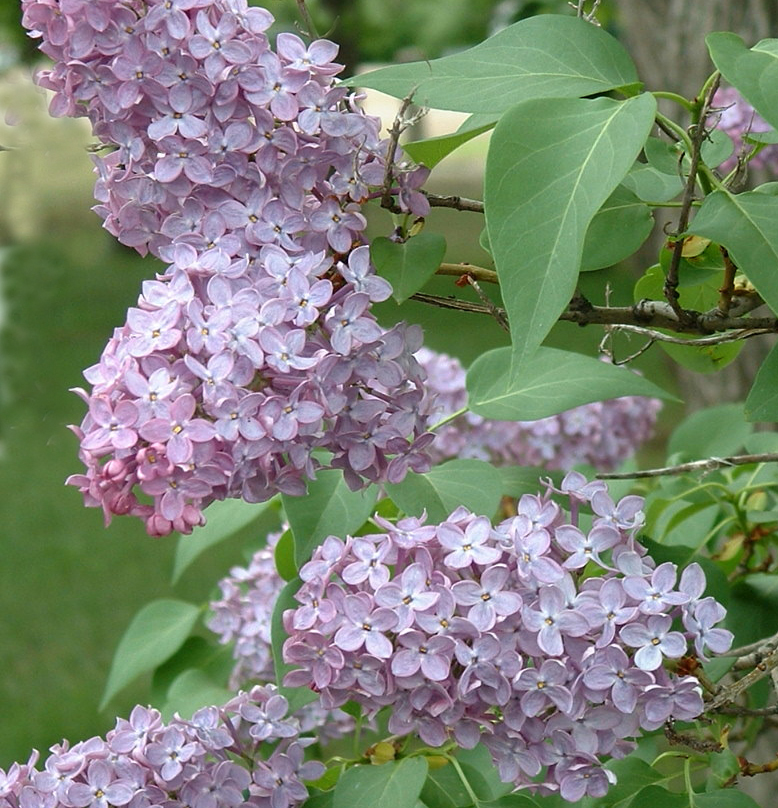 Growing up to 20′ tall this deciduous shrub has dark green heart-shaped leaves on the upper part of the bush. In mid to late spring 6-8″ long pyramidal to conical clusters of super fragrant flowers appear for a short bloom time. Each tubular flower is 1/3″ long, lilac to purple and attractive to bees, butterflies and birds. Cultivars have been introduced that have double flowers and extend the color range to white, rose, and magenta.
Light: Full sun
Soil: Rich, moist, well-drained, neutral soil; will not tolerate wet feet. In times of drought water deeply as lilacs have deep roots.
USDA Hardiness Zones 3-6
Japanese Skimia (Skimia japonica)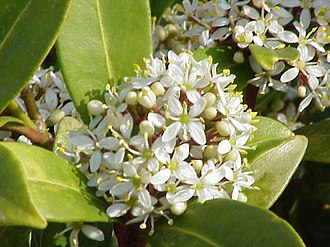 This evergreen shrub grows 3-4′ tall and produces rounded, 2-3″ long terminal clusters of creamy-white to pink tinged star-shaped male and female flowers on different plants. The male flowers tend to be more fragrant and larger than female flowers, while the female, flowers give way to attractive glossy bright red berries that ripen in the fall, and persist through the winter. You may have to make a choice between berries and fragrance. Both leaves and stems have a spicy fragrance when bruised.
Bloom Color: Creamy-white sometimes tinged with pink
Size: 3-4′ H x 4-5′ W
Light: Part to full shade
Soil: moderately fertile, consistently moist, well-drained
USDA Hardiness Zones 6-8
Koreanspice Viburnum (Viburnum carlesii)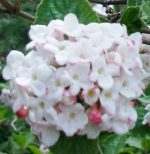 The spicy scented flowers of this 4-8′ tall deciduous shrub are borne in 3" clusters densely cover the bush in spring, beginning as dark pink buds opening to white. The gray-green to blue-green leaves are satiny and soft due to an abundance of fine hairs, and may take on a bronze or burgundy tint in good years if grown in the sun. Birds love the red to purple berries.
Light: Full sun to partial shade
Soil: Organically rich, medium moist, well-drained, lightly acidic
USDA Hardiness Zones 4-8
Rose Daphne (Daphne cneorum)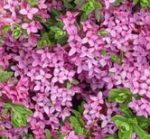 This evergreen shrub grows 6-8′ tall and has clusters of small bright pink flowers in April and sometimes sporadically in summer. The plant is medium textured with narrow dark green leaves that are up to one inch long. Plants are dense and twiggy and form a low, trailing mass so are especially attractive as a small-scale ground cover or in a rock garden.
Light: Bright light with protection from hot sun; tolerates more sun if moisture adequate but dislikes wet feet.
Soil: Average, moist, well-drained, neutral to slightly acidic; needs water during periods of drought in summer.
USDA Hardiness Zones 5-7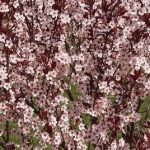 Purple Leaf Sand Cherry (Prunus x cistena)
Purple leaf sand cherry is a deciduous medium sized shrub or small tree and grow 7-10′ tall with an oval shape when young before arching and opening up in the center with maturity unless pruned. The oval leaves are up to 2″ long and have a purplish-red color in spring, turning bronze-green in the fall. In spring solitary fragrant flowers appear that are 1/2″ across and light pink to white. By late summer the flowers give way to 3/4″ purplish fruits that are attractive to birds.
Light:Full sun for best foliage color
Soil: Organically rich, consistently moist, well-drained
USDA Hardiness Zones 2-8
Sweet Olive (Osmanthus fragrans)
A large evergreen shrub or small tree, sweet olive grows up to twenty to thirty feet tall and fifteen to twenty feet wide but is usually six to twelve feet high. When young it is upright and columnar but becomes vase shaped as it matures. The shiny medium-green leaves are finely toothed and are held at the ends of the stems. From fall to spring and sporadically during the summer, clusters of white to yellow or orange flowers are produced that have a strong fruity fragrance that is variously described as apricot, peach, or citrus.
Light: Morning sun and afternoon shade is ideal
Soil: Average, moist to average, well-drained
USDA Hardiness Zones 9-11