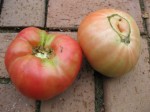 To be a genuine heirloom tomato, the variety must be at least 50 years old (some say older) dating from the time before the extensive breeding of hybrids for commercial tomato growing as large scale agriculture came into being. Heirlooms also must be open pollinated which means they are inbred and the seeds will produce offspring that are similar to the parent. For more information see my post on heirloom vegetables.
In recent years there has been return to planting heirloom varieties. Many gardeners believe that heirloom tomatoes are tastier and sweeter than modern varieties and often this is true. On the other hand, heirloom tomatoes may be more prone to cracking and disease, so choices may have to be made.
Here are five favorite red heirloom tomatoes that are readily available from catalogs or on line sources.

'Brandywine'
An Amish favorite known for its rich spicy flavor, 'Brandywine' dates from the late 1800s. The fruits are very large, somewhat flattened, and irregular in shape with deep pink skin and red flesh. Don't assume that 'Yellow Brandywine', 'Purple Brandywine' and 'Red Brandywine' are related to 'Brandywine', their ancestry is not know for sure.

Mortgage Lifter (aka 'Radiator Charlie')
This tomato was developed in the 1930s by M. C. Radiator Charlie Byles by crossing four large tomatoe varieties: 'German Johnson', 'Beefsteak', an Italian variety, and an English variety. The tasty tomatoes averaging 2½ pounds became so well known that he sold enough seedlings to pay off his mortgage in six years, hence the name 'Mortgage Lifter'. Good story? The tomatoes are good too, with pinkish red flesh, a sweet, mild flavor and few seeds.

German Johnson
One of the parents for 'Mortagage Lifter', 'German Johnson' is still a favorite heirloom variety in North Carolina. It bears fruits that weigh ¾-1½ pounds, have pinkish-red skin and nearly seedless, meaty, mild, flesh. The flattened globe-shape and somewhat gnarled appearance may be a put off but one taste will change your opinion. One seed company says that it is disease-resistant but in my Piedmont, North Carolina garden it is the first to circum to bacterial wilt.

Mr. Stripey
As its name implies, 'Mr. Stripey' has fruits with unusual coloring; orange-yellow mottled with red inside and out. The ridge-shoulded fruits weigh 9-12 ounces and have smooth, mild flavored, sweet flesh that is very low in acid. Mr. Stripey is a 'beefsteak' type tomatoes and has very small leaves.

San Marzano
If making tomato sauce is your interest try San Marzano, a Roma type tomato from Italy with thicker flesh, fewer seeds, sweeter and less acidic taste than Romas. According to the story, the first seed of these tomatoes were given to the Kingdom of Italy in 1770 by the Kingdom of Peru and were planted in the city of San Marzano, a small town near Naples, and in the shadow of the volcano Vesuvius. These tomatoes are grown, canned, and exported by Italy but seeds can be bought on line so you can grow them too.
When deciding on varieties of heirloom tomatoes for your garden beware of the frauds. Many varieties from the end of the 20th century are marked as heirlooms but are not. Such is the case with 'Green Zebra' and 'Traveler'. Perhaps this is a marketing strategy and any tomato that is open pollinated is sold as an heirloom. There is more to being an heirloom than open pollination so check it out, not an easy thing to do, by the way.