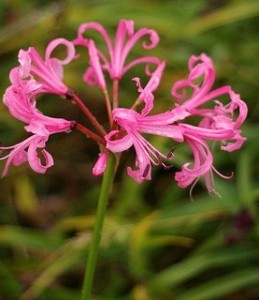 Nerines, also known as spider lilies and Guernsey lilies, are a natives of South Africa where they are highly valued for their autumn flowers. Related to amaryllis, kangaroo paw and alstoemeria, they can be grown in gardens in mild climates but do not do well with high humidity. They are grown commercially, however, in the United States from September until January and in Holland all year around. Their dainty beauty is useful in a variety of designs as well as wedding work. They were named for the sea nymph Nerine in Greek mythology but their only link to the sea is through the legend that bulbs of Nerine sarniensis were caste up on the shores of the Isle of Guernsey after a shipwreck.
The lily-like florets of nerine are born in umbels of 6 to 12 at the top of a leafless stem. They resemble lilies and come in pink (N. bowdenii), or red, salmon, and white (N. sarniensis). They are very versatile cut flowers and work well in mixed bouquets, as well as oriental and contemporary designs. Individual florets can be used in boutonnieres, corsages, and wedding bouquets.
Flowers should be purchased when the closed buds are showing full color and are ready to burst open. This is called the "pencil" stage and is significant because the flowers open very quickly once this state has been reached. Nerines lose water very quickly so after recutting the stems under water, place them into a fresh flower food solution quickly. If dehydration occurs, recut the stems and immediately place into water again. Watch the water level in container or vase so as to maximize the vase life of 1-2 weeks. Keep nerines warm, no colder than 41o F, because they don't like cold temperatures. The individual florets wilt and lose their color quickly so remove aging florets promptly to maintain the beauty of the remaining florets.