Flowers and candy seem to pop into mind at the thought of Valentine's Day but it was not always so. Florists view Valentine's Day as one of the most profitable holidays and take on extra workers to meet the demand but giving flowers on February 14th was not the custom until 1911 when florists launched a marketing campaign that made flowers the gift of choice. By 2011, an estimated $1.7 billion was spend on flowers as gifts for Valentine's Day.
Before World War I paper lace cards were exchanged between lovers and hopefuls but due to the efforts of some enterprising individuals in the florist industry the custom changed. A 1913 issue of The Weekly Florists' Review urged florists to remind customers in their advertisements that "flowers and hearts go naturally together." As a result slogans such as "Let Flowers Be Your Valentine" were launched and the public picked up on them.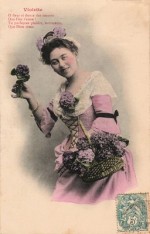 Before 1930 a gift of flowers consisted of one kind of flowers arranged in a corsage bouquet. The most popular flowers were violets, lily of the valley, and sweet peas but stock, acacia stems, and pussy willows were also popular. Daffodils, hyacinths and tulip plants also had a following and by 1940 roses and carnations became associated with expressions of love on Valentine's Day. Roses have continued to be the most popular choice for bouquets and last year over 198 million roses were produced for that special day.
As accessories and novelty containers were offered in the 1920s and '30s, the corsage bouquet went out of style and a loose arrangement of flowers took its place. Although many flowers are available in February, roses have remained the top choice, with red the favorite color. Red tulips are also popular but are not likely to surpass roses in the near future in spite of the high cost of roses.