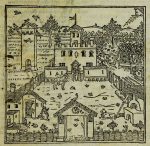 One of the best and most well-known sources of information on medieval gardening is Petrus Crescentius,  jurist from Bologna Italy, who worte an agricultural treatise based on classical and medieval sources as well as his own experience as a land owner.  His work was published in several languages over a long period of time and the frontspiece of the 1495 Venice edition gives us an idea of the nature of a traditional farm-complex of the late 15th century.
The frontispiece shows a modest farm-garden complex with a wattle fence enclosing a farmyard that is entered by means of a substantial entrance at one end.  At the other end stands the house with an impressive entrance way where a horse stands saddled and a man and woman talk outside the the main house.  A peacock perches on the roof of the entrance gate and a dovecote stands in a grain field on the left with birds on perches, on the roof, and flying about.  A rooster and pig confront each other in the left front of the farmyard while a woman nearby works as she sits on a stool near an outbuidling.   On the right hand side grapes grow on a pergola near an orchard and vegetable garden.  Tools, implements and an enclosure for bees add to the picture of a productive working farm.
How many such farm-garden complexes actually existed in medieval times?  It is difficult to tell but the concept was clearly was in the mind of Crescentius. Considering his considerable debt to classical authors and lack of archeological evidence to the contrary we might be inclined to wait for more evidence and definitive studies  on the subject before drawing conclusions but his illustration adds to our knowledge when thinking about the Middle Ages as they merged into the Renaissance.