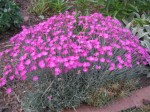 There are many shades of pink and all can enhance a rock garden. Pair pastel pink with white for a soft look, hot pink with medium blue to suggest playfulness, or dark pink with burgundy to give depth. Think about salmon pink with moss green, or medium pink with purple. Notice how well many shades of pink go with silver gray or medium to dark green leaves. Pink is a great color for the rock garden and fortunately there are many plants with pink flowers that are suitable.
Here are five spring blooming rock garden plants with pink flowers. Use them help create a mood for spring in your rock garden, a container, or along a border.

Cheddar Pink (Dianthus gratianopolitanus)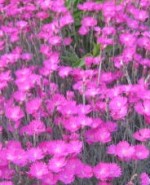 Cheddar makes one think of cheese and this pink is actually associated with the region of England where cheddar pinks are native. Their compact tufts of narrow gray-green leaves bear fragrant flowers 1" across in various shades of pink for several weeks in late spring to early summer if not allowed to go to seed. Cheddar pinks stand up to the heat and humidity of the South. 'Fire Witch' is a popular cultivar.
Size: 4-6" H x 12-18" W
Light: Full sun to partial shade
Soil: Average, well-drained, alkaline
Hardiness: Zones 3-9

Gray-leaf Cranesbill (Geranium cinereum)

Saucer-shaped pink flowers 1" across and lined with purple veining are borne in late spring to early summer on low spreading plants. The cultivar 'Ballerina' is only 4-6" high and has 2" flowers that are lilac pink with a dark center and purple veining. The flowers are sterile and so the plant is long blooming.
Size: 6-12" H x 12" W
Light: Full sun to partial shade; partial shade in the South
Soil: Average, well-drained, gritty; tolerates lime
Hardiness: Zones 5-7

Lewisia cotyledon


Considered by rock garden enthusiasts as a plant, lewisia has showy flowers in pastel pinks, yellow, apricot, salmon-orange, and rose. The flowers are borne in multi-branched clusters above rosettes of long, bright green leaves. The plants are evergreen, have fleshy leaves, and are susceptible to root rot if the crown is not kept dry.
Size: 12" H x 8" W
Light: Part shade
Soil: Rich with high content of leaf mold, gritty, well-drained, free of lime
Hardiness: Zones 5-8

Rock Jasmine (Androsace sarmentosa)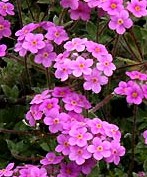 A native of the Himalayas and western China, rock jasmine is evergreen bearing rosettes of small leaves with silver hair. The plants spread by runners and form an open mat that bears clusters of small light pink flowers.
Size: 2-8" H x 18" W
Light: Full sun; tolerates some shade
Soil: Lean, well-drained gritty
Hardiness: Zones 5-8

Dwarf Flower of Jove (Lychnis flos-jovis minor)


Clusters of clear pink flowers are borne above rosettes of felted, wooly, silver-gray leaves that form a mat. The plant resembles rose campion but is more compact. Plants tend to reseed which ensure a supply of plants from year to year.
Size: 8" H x 6" W
Light: Full sun to partial shade
Soil: Average, well-drained
Hardiness: Zones 4-8
Like most rock garden plants all of these are low growing and need well-drained soil but they vary in their other requirements. Some need more light than others; cheddar pinks need alkaline soil, while crainsbill tolerates it and Lewsia must have lime free soil. If their needs are met they will probably do well. Lewisia is probably the most demanding of this group, while cheddar pinks the least.