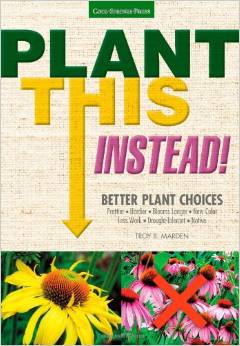 Bored by growing the same old plants year after year? Tired of pulling out the invasive plants that crowd out their neighbors? Sorry that you bought that perennial that was supposed to bloom all summer but didn't? If your answer is yes to any of these questions consider consulting Troy Marden's book ,Plant This Instead. It will give you lots of suggestions to perk up your garden, lessen maintenance chores, and have a more beautiful garden.
After a brief introduction to planning, buying, and planting a garden, Marden presents seventy-five common plants and their alternatives. He provides a two page spread for each that includes a description of the common plant and two or more possible replacements with photographs. In addition he give information on light, soil, and moisture requirements as well as hardiness zones. The plants are divided into groups: aggressive perennials, improved perennials, annuals, trees, and vines and groundcovers. We learn that the beautiful cinnamon fern and durable Christmas fern, for example can replace the aggressive ostrich fern, and that heat, humidity, and drought tolerant 'Hot Lips' Salvia microphylla is a good replacement for Salvia x sylvestris 'May Night' that fades out in heat and humidity and needs a regular water supply. Like wise, 'Red Blaze' red maple and 'Autumn Brilliance' serviceberry offer the outstanding autumn coloration and are good substitutes for Bradford pear that splits with snow and ice. Perhaps the most interesting chapter was the one on improved perennials where you can find new versions of old favorites. Replacements for old fashioned Lenten rose include double flowered 'Golden Lotus','Golden Sunrise' with yellow flowers and red eye zones, and anemone flowered 'Tutu' with pink flowers and a Victorian ruff surrounding the stamens.
The text is written in an easy style and contains enough information so you can choose plants that are very likely to do well in your specific conditions. Many of the alternative suggestions might be hard to find locally and so may involve a hunt on line to find a source but their scarcity is what makes them all that more alluring and desirable. The book could be improved by providing plant sizes for all the plants discussed since size is a critical factor when selecting a replacement. Other than that, Plant this Instead! is a great resource for a garden make-over or even some small changes.
To buy Plant This Instead!: Better Plant Choices – Prettier – Hardier – Blooms Longer – New Colors – Less Work – Drought-Tolerant – Native from Amazon.com click here.