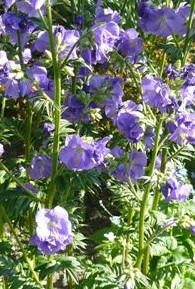 Also called Greek valerian, this clump-perennial is native to the cool parts of Europe and Asia where it grows in broad-leaf forests and moist grasslands and meadows. It has medium green, pinnately compound leaves with up to twenty-seven leaflets arranged like a ladder as the common name suggests. The cup-shaped flowers are lavender-blue or white with yellow stamens and carried in loose terminal clusters in late spring or early summer. Plants do best in cool climates and struggle in the heat and humidity of the South. Readily self-seeds if happy.  The specific epithet comes from the Latin caeruleum meaning sky/dark blue and refers to to the color of the flowers.
Type: Herbaceous perennial
Bloom: Lavender-blue cup-shaped flowers with yellow stamens in loose terminal clusters in late spring to early summer
Size: 2-3' H x 2-3' W
Light: Part shade
Soil: Average, medium moist, well-drained; leaf tips may brown if soil too dry
Hardiness: Zones 4-8
Care: Plants may be cut back to basal foliage after flowering to shape or encourage possible rebloom
Pests and Diseases: Powdery mildew, leaf spot, slugs
Propagation: Self seeds, division in spring or fall
Companion Plants: Astilbe, columbine (Aquilegia), bleeding heart ( Dicentra spectabilis, Dicentra exima), sweet woodruff (Galium odoratum), Corydalis lutea, Hosta, Brunnera, Bergenia, goat's beard (Aruncus diocus) and Ferns.
Outstanding Suggestions:
'Stairway to Heaven' (More heat and cold tolerant)
'Snow and Sapphires' (Light green leaves with white margins; more sun tolerant but hardy only to zone 5)