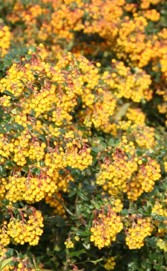 This evergreen shrub is a native of Chile and Argentina. It was discovered by Darwin in Chile in 1835 when he was a naturalist on the Beagle, hence the specific name "darwinii". The plant has naturalized in Australia and the west coast of the United States, and become invasive in New Zealand. The small dark green leaves are glossy, oval, and are tinged with red when young. They are borne in clusters of two to five and have spiny margins with three spines at the tip. The orange flowers appear in pendulous racemes two inches long on reddish stems in spring and sometimes again in fall. The fruits are plum colored and ½" long when they ripen in the fall and are attractive to wildlife.
Type: Evergreen shrub
Outstanding Feature: Flowers and berries
Form: Rounded
Growth Rate: Rapid
Bloom: Orange, in pendulous racemes in spring and sometimes again in fall
Size: 10' H x 10' W
Light: sun, partial shade
Soil: Average, moist, well-drained; not drought tolerant
Hardiness: Zones 7-9
Care: Trim in late winter to maintain size; rejuvenate by cutting out older stems
Pests and Diseases: Sawfly, powdery mildew
Propagation: Seed, from semi-hardwood cuttings; may reproduce by runners
Outstanding Selection: 'Flame' (broader leaves, orange red flowers).