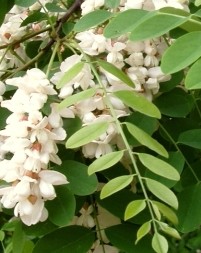 Native to central and southeastern United States, this deciduous, suckering tree is now found in all states except Alaska and Hawaii. It is very easily grown, accepts even the poorest soils, and happily colonizes railway sidings and roadsides.  Growing 20-100′ tall, black locust has a straight trunk and rope-like dark gray bark. Although it can be somewhat untidy in appearance it has attractive creamy-white, fragrant flowers that are borne in pendulous clusters up to 8" long in late spring. Flat, purple-brown seed pods 4-5" mature in fall, turn brown, and persist into winter. The dull blue-green leaves have a pair of short spines at their base, are 6-14" long, and pinnately compound with up to 23 leaflets. Fall coloration is dull yellow and not attractive.  A good tree for a difficult site but should be used with great caution because it can be invasive.
Type: Deciduous tree
Outstanding Features: Flowers and very hard, durable wood (excellent for fence posts)
Form: Upright, narrow crown with greatest width at top
Growth Rate: Rapid when young, moderate with age
Bloom: Very fragrant, creamy white flowers are produced in pendant racemes 8" long in spring.
Size: 30-100' H x 20-35' W
Light: Full sun; tolerates some shade
Soil: Prefers fertile moist soil but tolerates considerably less including VERY poor, dry, sandy or gravelly soil.
Hardiness: Zones 3-8
Care: Prune in summer rather than spring to avoid"bleeding".
Pests and Diseases: Leaf minor, locust borer, caterpillars, weevilsm scale, whiteflies, canker, powdery mildew, leaf spots, wood rots, and verticillium wilt.
Propagation: Seed, division of suckers, grafting
Outstanding Selection: 'Frisia'(golden foliage).