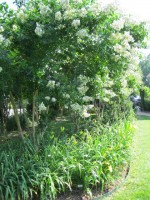 Crape myrtle is an outstanding plant with the only drawback that it is hardy only to zone 7. It comes in many varieties that produce frilly, crepe like flower heads, in many different colors from white to pink, red, lavender and purple. The flowers last for weeks, 60-120 days depending on the cultivar. In fall the leaves turn yellow, orange, or red, and in winter when they have fallen, the architectural quality and beautiful exfoliating bark is revealed. They come in three forms, tree, shrubs, and groundcovers so there is sure to be a place in everyone's garden for this easy to grow plant. Once it is established, it is drought tolerant and seems to take the pollution of an urban environment. They thrive in the heat and humidity of my North Carolina garden but do equally well along the sidewalks and streets around my Los Angeles home.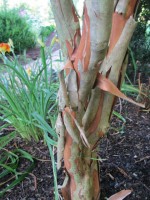 Type: Flowering tree.
Outstanding Feature: Showy flowers, exfoliating bark, autumn coloration.
Form: Round groundcovers; vase shaped shrubs and trees.
Growth Rate: Rapid to moderate depending of cultivar and climate.
Bloom: Large clusters of small flowers in purple, lavender, pink, red and white in summer.
Size: 18"-40' H x 3-15' W (depending on the cultivar).
Light: Full sun.
Soil: Average, moist, well-drained but tolerates drought once established.
Fertilizer: Excess fertilizer produces abundant foliage at the expense of flowers.
Hardiness: Zones 7-9.
Care: Prune off seed pods to encourage good flower production; remove suckers to maintain tree forms.
Pests and Diseases: Susceptible to aphids and mildew (but many cultivars resistant to mildew).
Propagation: Seed (prolific reseeder); hardwood cuttings.
Outstanding Selections: The Indian Tribes group developed by the National Arboretum has good disease resistance. Some Japanese varieties with Indian names are also highly mildew resistant. Look for cultivars with names like 'Cherokee' (red shrub), 'Potomac' (pink tree), and "Natchez' (white tree).