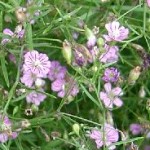 Cushion baby's breath, also called low baby's breath, is an annual native to Europe, Asia and North Africa where it grows in disturbed sites such as meadows, fields, and roadsides. It is a member of the carnation family, Caryophyllaceae, that also includes pinks (Dianthus), Lychnis, and soapwort. The plants are strongly branched from the base and the stem linear dark bluish green leaves forming attractive mounds. The flowers are up to 2 1/5 inches across and are carried in open clusters from mid summer to fall. They have five pink to white petals with dark veins and are good cut flowers. Plants are less lime loving than most other Gypsophilas and are tolerant of heat and humidity. An excellent choice beds, borders, cutting gardens, and as a filler for containers. The generic name Gypsophila comes from the Greek words gypsos meaing gypsum and philos meaning lover, and refers to the need of alkaline soil bymost species. The specific epithet muralis is the Latin word meaning of the wall.
Type: Annual
Bloom: Open clusters of flowers up to 2 ½" across with five pink to white petals, from mid summer into fall
Size: 6-12" H x 12" W
Light: Full sun to partial shade butneeds afternoon sun in the South.
Soil: Average, moderately moist, well-drained, neutral to alkaline
Hardiness: NA
Care: Low maintenance
Pests and Diseases: Aphids Diseases: Botrytis, rhizoctonia and pythium
Propagation: Seed
Companion Plants: Bedding verbena. Nemesoa, lavender, ornamental grasses, Campanulas