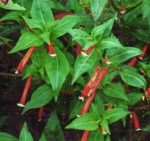 Also known as cigar flower, this tender evergreen sub-shrub is  native to Mexico and the West Indies but is often grown as an annual in elsewhere.    It is a member of the loosestrife family, Lytharaceae, that also includes crepe myrtle, pomegranate and henna.  Plants grow 1-2.5′ tall and are rounded and densely branched.  The oblong or lanceolate leaves are dark green and up to 2″ long. The 1 1/4″ long flowers appear in the leaf axils from late spring to frost and consist of a tubular orange to red calyx tipped  with a thin white rim and two  purple-black petals.  The appearance of the flower is thought to resemble a lit cigar or firecracker, hence the common names. The flowers are attractive to hummingbirds and butterflies and the plants are a good choice for butterfly and wildlife gardens as well as for borders, window boxes, hanging baskets, and containers. In USDA Hardiness Zones 9 and colder, they are often brought indoors as house plants in the fall and placed in a sunny area with reduced watering and temperatures in the 60s.   The genus name, Cuphea, comes from the Greek word kyphos meaning curved and refers to the curved seed capsule.  The specific epithet,ignea, comes from the Latin word ignis meaning fire, and refers to the appearance of the flower.
Type: Flowering evergreen sub-shrub
Outstanding Feature:Flowers
Form: Rounded
Growth Rate: Rapid to moderate
Bloom:   Tubular, apetalous, orange to red calyx 1.25″ long, tipped  with a thin white rim and two  purple-black petals from late spring until frost
Size: 1-2.5′ H x 2′ W
Light: Full sun; tolerates partial shade.
Soil:Average, medium moist, well-drained; some-what drought tolerant once established
Hardiness: Zones 10-12
Care:Pinch mid summer to maintain bushiness
Pests and Diseases:None of significance
Propagation: Seed; stem cuttings in fall
Outstanding Selections:
'Black Ash' (flowers rimmed in maroon-black)
'Coan Flamingo' (dwarf with pink flowers)
'David Verity' (hybrid of C. ignea; 2′ tall, bright orange flowers, dark green leaves)
'Dynamite' (low growing; floriferous)
"Pink Peculiar' (light pink flowers)
'Variegata' (sprawling; blossy green and gold foliage)