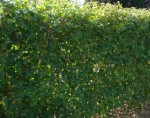 This small to medium sized deciduous tree is native to Europe, North Africa, and western Asia, and is commonly used in hedgerows in southern England. Densely branched, it has a rounded crown with branches often growing very close to the ground. The dark green leaves have three to five lobes and are two to four inches across. In late fall they may develop an attractive yellow color. Inconspicuous greenish-yellow flowers are produced in cluster in spring and are followed by winged fruits called samaras.  Although hedge maple grows best in well-drained soil it tolerates dry, poor, compacted soil. It also tolerates some shade, heat, pollution and urban conditions. It makes an attractive lawn tree, can be sheared into a hedge, and can be used for bonsai. Because of its shallow root system and dense canopy, however, it is difficult to establish plants including grass underneath it. Over thirty cultivars have been developed but few are readily available.
Type: Deciduous small tree
Outstanding Feature: Can be sheared into a hedge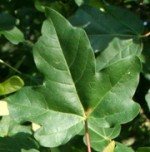 Form: Dense with rounded crown and branches often to the ground
Growth Rate: Slow to medium
Bloom: Inconspicuous greenish-yellow flowers in spring followed by winged fruit (samaras)
Size: 25-40' H x 25-40' W
Light: Sun; tolerates some shade
Soil: Average, well-drained; tolerates poor, dry, compacted soil
Hardiness: Zone 5-8
Care: Low maintenance
Pests and Diseases: None of significance but susceptible to verticillium wilt, leaf spots, canker, root rot, tar spot, and damage by aphids, mites, borers, scale, and caterpillars.
Propagation: Seed
Outstanding Selection: 'Carnival' (white variegated leaves)