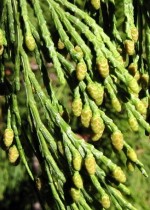 An evergreen native of the Pacific-northwest, California and western Nevada incense cedar is an excellent ornamental tree that can be used in the garden to add a stately ambiance even in droughty conditions. Its bright green fragrant foliage is composed of overlapping scales arranged in flat, elongated sprays on pendulous branches. Bright colored cones ornament the branch tips in late summer and fall making the incense cedar a popular inclusion in Christmas flower arrangements and the wood of the tree is used for making pencils because of its straight grain and ability to be whittled into a point. The gray to cinnamon red bark is exfoliating, providing additional winter interest.

Type: Evergreen Tree
Outstanding Feature: Columnar form; drought tolerance; year-round interest
Form: Pyramidal in the wild; columnar in cultivation
Growth Rate: Slow when young; moderate as tree matures
Bloom: Male and female cones are produced on the same tree.
Size: 30-70' H x 10-20 W
Light: Full sun to part shade
Soil: Average to poor, dry to medium, well-drained
Hardiness: Zones 5-8
Care: Water well until established; little or no prunning needed.
Pests and Diseases: Generally pest free but can be damaged by rust, heart rot, and leafy mistletoe.
Propagation: Seeds; semi-ripe cuttings in late summer
Comments: Tolerant of high temperatures, air pollution and salt spray.