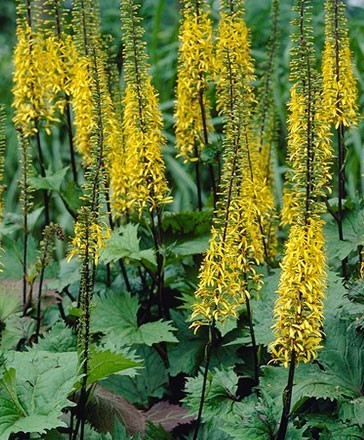 and is closely related to Senico (ragworts and groundsels). It has light green heart-shaped to triangular one to two feet long leaves that have toothed margins and are carried on long petioles. The small yellow flower heads are 1-1 ½" wide and are carried well above the foliage on long slender racemes that are twelve to eighteen inches long and have purplish stems. Each flower head consists of yellow ray flowers surrounding brown to yellow disc flowers. The most popular cultivar is 'The Rocket' which is more compact and has smaller flowers carried on eighteen to twenty four inches racemes. It is sometimes listed as a cultivar of Ligularia pzrewalskii, a species that is generally less likely to wilt in summer heat. Although the species can be propagated by seed or division, 'The Rocket' should be propagated only by division. Both the species and 'The Rocket' are eye-catching plants in the garden especially when massed but must have plenty of moisture and afternoon shade to do well. An excellent choice for a woodland garden in a cool climate with consistently moist soil and some shade. Not recommended for areas warmer than zone 6. Genus name, Ligularia, comes from the Latin word ligula meaning strap and refers to the shape of the ray flowers.
Type: Herbaceous perennial
Bloom: Yellow flower heads 1-1 2/ inch wide in racemes twelve to eighteen inches long, on purplish stems, in summer.
Size: 3-4' H x 5' W
Light: Full sun to partial shade; afternoon shade in the southern part of their range
Soil: Average, consistently moist, well-drained
Hardiness: Zones 5-8 (but not recommended warmer than zone 6)
Care: Low maintenance
Pests and Diseases: Snails and slugs
Propagation: Seed, division

Companion Plants: Bee Balm (Monarda), turtlehead (Chelone), Hosta, monkshood (Aconitum)Cardinal flower (Lobelia cardinalis, Rodgersia, meadowsweet (Filapendula), primroses, ferns