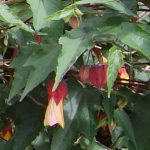 Trailing abutilon is a deciduous or partially evergreen shrub native to Brazil, Argentina, and Uruguay where it grows in dry mountain valleys. It is a member of the mallow family, Malvaceae, that also includes hollyhock, hibiscus, cotton, and okra.  Plants grow up to 8′ tall and have small, ovate, pointed leaves 2-3″ long with three shallow lobes.  The leaves grow horizontally so the plants tend to have a 2-D appearance.  In summer and autumn the  pendulous, bell-shaped flowers appear.  They are 2-3′  and have a conspicuous bright red calyx and  5 lemon yellow petals surrounding  a column of stamens and pistils that extend beyond the petals.  Plants can be grown in containers and are a popular choice for  subtropical gardens.  The genus name, Abutilon, is the Arabic word for a mallow-like plant.  The specific epithet, megapotamicum, comes from the Greek prefix, mega, meaning large, and the Greek word potamos, meaning river.
Type: Tender perennial
Bloom: Bell-shaped flowers with crimson calyx, lemon yellow petals, and extruded pistil-stamens column, in summer and autumn
Size: 8′ H x 8′ W
Light:Full sun
Soil:Average, moist, well-drained
Hardiness: Zones 9-10
Care: Grows quickly when young so may have to be repotted twice a year if grown in a container; prune 25-40% just before growth begins
Pests and Diseases: Spider mites
Propagation: Seed
Companion Plants:  Bird of paradise; salvias such as S. leucantha, S. regla, and  S. greggii; Heliconia rostrata; bromeliads
Outstanding Selections:
'Variegatum' (yellow mottled leaves)
'Victor's Folly' (wine-colored sepals with deep veining and soft peach petals)
'Wisley Red' (rich red flowers)
It is a popular ornamental plant in subtropical gardens.
USDA hardiness zone 9b to 10b: from 25 °F (−3.9 °C) to 40 °F (+4.4 °C).
How to Grow and Care
Abutilon is not an especially difficult plant to grow. During warmer, dry winters, they are sometimes affected by spider mites, and they are known for leggy growth. To encourage bushy growth, prune the plant by 25 percent to 40 percent in the late winter, right when new growth is about to start. Also, throughout the summer, occasionally pinch off new growth to encourage healthy growth. When pruning, make sure to stagger your cuts and remove some large branches to open the plant's canopy. As a final note, these plants dislike acidic soil, so it is not necessary to add additional lime to your potting mix. Instead, stick with the basic peat-based potting soil and make sure to refresh it as the mixture decomposes and becomes more acidic over time.
Abutilon is a relatively fast-growing plant, especially when they're young. Consequently, younger plants might need to be repotted twice a year, once at the beginning of the growing season and once in the middle. Older plants, however, benefit from being slightly pot-bound, so should be repotted either every other year or yearly into only slightly larger pots. Pot-bound plants tend to grow more vigorously and bloom better… – See more at: How to Grow and Care for Abutilon
Origin
Native to the dry mountain valleys in Brazil.
AspectSouth-facing or East-facing
ExposureSheltered
Soil
Loam

Sand
MoistureWell-drained, Moist but well-drained
SoilLoam, Sand
pHAcid, Neutral
Size
Ultimate height1.5-2.5 metres
Ultimate spread1.5-2.5 metres
Time to ultimate height10-20 years