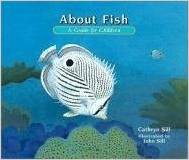 If you are lucky enough to have a stream or pond on your property you might have fish that add to the life and interest of the place. Fish certainly attract the attention of young children and Cathryn Sill's book, About Fish, is an excellent introduction to these aquatic beauties. Written for children from pre-school to grade 2, the book presents basic facts about fish and provides a look at the diversity of the group.
A picture of a large brown trout swimming in a fast moving stream leads us into the subject with its accompanying text "Fish live in water." The following pages consider the characteristics and habits of fish such as how they move, breath, protect themselves, and feed. Each two page spread contains a simple sentence or phrase and a large full page watercolor illustration of a specific fish in its natural environment. Sixteen different fish are shown including largemouth bass, longnose gar, porcupine fish and whale shark. An Afterward gives more details on fish in general as well as on specific fish shown in the text. The entry on lined seahorses is especially appealing with its picture of a male seahorse with his young emerging from his pouch and the accompanying text in the Afterward that describes the process. If you want your youngster to appreciate and understand a bit about fish, Sill's book is a great beginning.
To buy About Fish: A Guide For Children from Amazon.com click here.