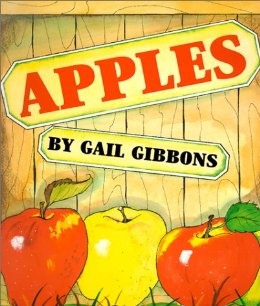 A good way to encourage our children and grandchildren to eat healthy food is to make such foods fun and inviting. Gail Gibbons book, Apples, does just that. Filled with interesting facts and abounding in colorful illustrations, this book presents apples in an upbeat, positive way that makes them very appealing.
The author begins with historical background showing the pilgrims and colonists bringing apples from England and introducing them to the native Americans and spreading them westward. Young readers also learn about legendary Johnny Appleseed and his travels through the wilderness of Ohio, Pennsylvania, and Indiana, planting and distributing apple seed as he went. Lessons on the life cycle of apples and their biology are followed by a description of the fun activities associated with apples and their harvest, including country fairs and Halloween celebrations. Of course, not all apples are the same, and the author introduces twenty different kinds of apples differing in shape, color and taste. Illustrated directions are included for planting and growing an apple tree and making apple pie. The closing pages sing out that apples are "nutritious and delicious" and give interesting facts about apples, for example, that the apple blossom is the state flower of Arkansas and Michigan.
Gibbons has a knack for picking interesting facts about apples and then illustrating the text with appealing pictures. She uses bright bold colors and simple figures to capture the spirit of the narrative and imbue a sense of excitement and anticipation throughout. The friendly, smiling faces of all characters make handling and eating apples look like the most enjoyable activity ever! What better way to reinforce good eating habits? Get out some apples and munch while you read.
To buy Apples from Amazon.com click here.