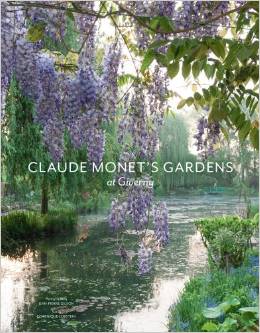 Thoughts of Monet's garden at Giverny brings up images of a Japanese bridge and water lilies. Do you envision the water lilies and bridge in the spring? In the winter, or perhaps the summer or fall? In this beautifully illustrated book, you will see the gardens in all seasons and get a feel of what the garden must have been like when Monet created and painted it.
The book looks at all parts of the garden during the four different seasons. We see the orchard that Monet opened up to include flowering cherry trees and vistas, the Grand Allee with its colorful borders, and the rose covered pergola with foxgloves standing guard. The pond, of course is a major focus of the work, and we see the pond in spring before the water lilies have appeared, later when the water lilies are in bloom, in the fall when brown, red, yellow and orange leaves cover the water lilies, and finally when snow covers the frozen surface of the pond. Likewise, photographs of the famous Japanese bridge show the bridge with naked branches of wisterias overhead, then when the wisteria is leafed out, and finally when in full bloom. Just as Monet was intrigued by the play of light, reflections, and shadows, the photographer captures the impressions that Monet must have scene as he enjoyed his garden.
Two texts accompany the photographs. One explains the photographs and points out the pertinent facts. We learn that Monet loved tulips, iris and exotic plants, that he painted the bridge more the fifty times, and that he allowed indigenous plants like the poppy to grow freely in the flowerbeds. The second text is fictional but based on research and real events. It is in the form of letters from Monet's friends and members of his family including Theodore Earl Butler, Georges Clemenceu, and Lila Acheson Wallace. These letters bring the photographs to life and give insight into the creative spirit of the artist. A collection of interior photographs of Monet's house conclude the work.
The photographs are stunning and capture the many moods of Monet's garden as the light and seasons change. They are presented in different sizes from small to two page spreads which creates a lively pace and enlivens the text. A very good read for anyone interested in great gardens or Monet's works.
To buy Claude Monet's Gardens at Giverny from Amazon.com click here.