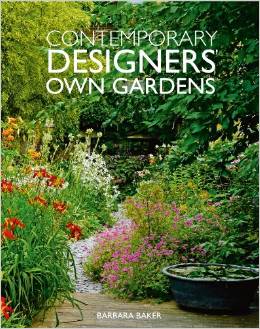 Have you ever wondered what the garden of a famous garden designer's garden looks like? Is it like the commissioned ones? Totally different? Or somewhere in between? Barbara Baker's book, Contemporary Designers Own Garden, answers these questions by examining both the commissioned and private gardens of twenty well known garden designers from Europe, Asia, Australia, New Zealand, and The United States.
Believing that a garden designer's own garden reveals much about themselves, Baker chose the garden designers using the following criteria: the private gardens of the designers were not open to the public (so were not client oriented); all the designers chosen had to be professional garden designers, rather than artist who have designed a few gardens; and all the designers had to be successful and accomplished as well as on the forefront of contemporary design. Baker's chosen few were: Patrick Blanc, Fernando Caruncho, Kate Cullity, Jim Fogarty, Ludwig Gerns, Adriaan Geuze, Isabelle Greene, Bunny Guinness, Ron Lutsko, Jr, Shunmyo, Dan Pearson, Antonio Perazzi, Tony Smith, Ted Smyth, Tom Stuart-Smith, Andy Sturgeon, Made Wijaya, Jacques Wirtz, Ute Wittich, and Stephen Woodams.
For each garden designer the author presents information on personal and professional background, and on the setting for the private garden. She then goes on to analize the qualities that make each designer's garden unique, focusing on the relationship between the garden and the setting, planting schemes, and the goals of the designer. Next, the author compares the private garden of the designer to the commissioned ones done for clients bringing out the similarities and differences. Some designers, like Kate Cullity, have created commissioned gardens with a strong resemblance to their own private garden while others like Tony Smith, have private gardens that are very different from the ones they create for clients. Other designers lie in between allowing more freedom in the creation and maintenance of their own private garden than the commissioned ones. Lavish use of photographs enhances the text and clarifies the points made by author. This book is a great education in contemporary garden design and the people who are making it happen.
To buy Contemporary Designers' Own Gardens from Amazon.com click here.