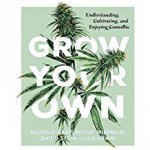 Grow Your Own by the owners of Raven Grass in Olympia Washington introduces the reader to the world of marijuana covering a wide range of topics with a focus on growing and harvesting. It is intended for small scale indoor growing conditions (basement, attic etc) but could possibly be beneficial to outdoor growers who could apply the same concepts and instructions but adjust them to specific climate conditions. Written in a lively style with plenty of humor, the book places marijuana culture in the company of home wine making and beer brewing.
Early chapters introduce readers to the three subspecies of Cannabis, fifteen major strains, and the major cannabidiols. The instructions for making and tending a cannabis garden cover both open air and closed air setups, with details on grow mediums, fertilizers, and the regulation of temperature, humidity, carbon dioxide, airflow, and light. Suggestions are included for choosing plants, planting, maintaining, harvesting, and storing with special sections on pest management and trouble shooting. The various forms of cannabis are described and methods for consuming it are detailed including three recipes for edibles. Diagrams and photographs enhance the text and insets contain valuable tips such as companion plants for Cannabis and directions for make willow water tea. Grow You Own is an easy-read introduction to a timely subject.
To buy Grow You Own from Amazon.com Click Here.