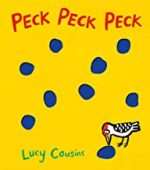 Lucy Cousins' Peck, Peck, Peck is a delightful tale of young woodpecker whose daddy teaches him to peck and takes off to peck with all the enthusiasm of any youngster eager to practice a new skill.  He pecks, pecks, pecks a tree,  fence,  front door, hat, tennis racket, book, teddy bear,clothes, food, the bathroom sink and toilet leaving a hole in the page just begging  for a little finger to pass through.  Exhausted, the little woodpecker is so tired he goes home for a rest and is welcomed by his very pleased daddy who puts him to bed with love, love love, and a kiss, kiss, kiss. An absolutely charming story.
Written for preschoolers, the book has a rhyming text and moves along quickly and with spirit that reflects the joy and energy of the young woodpecker as he learns to peck.  The holes in the pages and the everyday items he pecks invite responses from young children and provide them with  opportunities for interaction as they poke their fingers through the holes and call out the names of familiar objects.  The illustrations are done in bright bold colors with dark thick edges and just enough detail to make them interesting and eye catching.  A wonderful book and perfect for a bedtime read.
To buy Peck, Peck, Peck from Amazon.com click here.