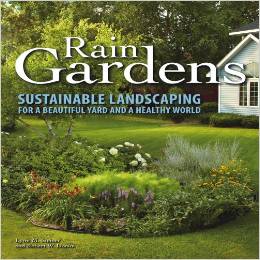 With increasing problems of water quality and risings water costs, rain gardens offer a solution to both problems while also providing a useful habitat for wild life of all kind. Based on this premise, authors Lynn Steiner and Robert Domm have written a comprehensive guide covering all phases of incorporating a rain garden into the landscape. They combine their experience in the fields of hydrology and horticulture to provide simple, inexpensive ideas and advice that use native flowers, shrubs, and trees to improve water quality and enhance the environment.
After a very informative introduction on the water cycle and the value of rain gardens, the authors present four chapters that cover planning, building, planting, and maintaining a rain garden. The authors point out that the main difference between planing a rain garden and planning any other type of garden is that the former is dependent on how much rainwater will be collected and what impervious surfaces will be chosen to collect from. The many aspects of planning a rain garden are considered such as the location of the garden, dealing with zoning ordinances, light considerations, and soil characteristics. Step by step instructions for building the rain garden are accompanied by numerous photographs, and insets provide detailed information on such topics as French drains, calculating the amount of materials needed, and the use of gray water and porous pavement. After a consideration of the basic needs of plants, plant lists are provided by both light and water requirements. By using the two lists together a gardener can choose the right plants for each of the three wetness zones in either sunny or partially shady rain gardens. The authors urge the use of native plants pointing out that they will encourage an increase in wildlife which enlivens the garden. Additional plant lists are included for providing winter interest, attracting butterflies and hummingbirds, and dealing with road salt. A plant index at the end of the book expands the information on plants by providing pictures, descriptions, and cultural requirements of over ninety plants that are especially suitable for rain gardens. The final chapter considers the maintenance of a rain garden with a calendar of maintenance chores. Suggestions are included for making compost, pruning, controlling plant height, and minimizing deer damage by using plants from a list of those that are deer resistant.
The authors write in a clear and sensitive way that emphasizes the value of installing a rain garden while providing the reader with the information needed to make one. Having a rain garden is a landscape choice that allows a homeowner to improve the quality of the water, save money and enhance the environment. It's a win-win investment for any gardener.