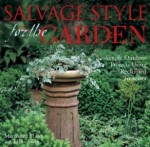 If browsing at garage sales and flea markets is for you, take a good look at this book and learn to turn someone else's cast-offs into works of art for the garden. Believing that there are few things more exciting than uncovering the hidden potential of a salvaged item and transforming it into a thing of beauty, author Marcianne Miller gives detailed instructions for producing forty-one projects to enhance your garden. She focuses on architectural salvage but includes a variety of outdoor items like tools and old patios. Most projects are well within the home maintenance skills of the average person but a few are for general crafters and skilled craftsmen.
Miller starts with the basics such as where to find architectural salvage, a glossary of pertinent terms, and guidelines for deciding on a purchase. The materials and tools needed for salvage projects are described with special attention on the requirements of specific media such as metal and glass. Suggestions are also made for landscaping and placing projects in the garden including directions for digging postholes.
The bulk of the book is made up of the step-by-step instructions for making forty-one projects. Drawing from the experience of twenty four designers, Miller includes ideas using wood, metal, clay, slate, glass, and mirrors. Throughout the project instructions, Miller includes specific design tips from the designers and indicates the complexity of each project. She encourages the readers to find inspiration in the projects and develop their own specialty and salvage style. There is a huge variety in the projects and something for everyone's taste and skill level. If you can clean, scrape and spray paint, you can make a unique bird feeder out of an ashtray. With a few more materials and skills you can fashion a giant bug using a spindle from an old chair or banister railing. If you are lucky enough to weld, you can make a large flamingo from a shovel, rebar, and the blade guard from a sickle bar mower. Even more ideas for projects are presented in picture galleries, filling the mind with new and exciting possibilities.
Salvage Style for the Garden is a fun book and once you have read it you will never look at old abandon objects the same way. Everything will take on a different aura and suggest new possibilities. You will develop a new concept of beauty so that you will find yourself viewing rust as a asset, weathered and worn as beautiful. The range of projects from easy to difficult, useful to beautiful, and simple to complex will inspire and guide you to a satisfying experience and more enchanting garden.
To buy Salvage Style for the Garden: Simple Outdoor Projects Using Reclaimed Treasures from Amazon.com click here.