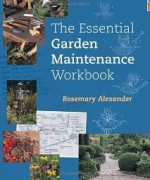 As every gardener knows, gardens are works in progress. There is a beginning, of course, but the garden is never finished and because it consists of living, growing plants, it is constantly changing as it matures. Rosemary Alexander's book on garden maintenance is an invaluable guide for keeping the garden looking good as it changes and matures. Whether this involves simple chores like pruning and transplanting or total renovation involving tree removal and hardscape improvement, the skills needed to maintain a small or large garden can be found in this volume.
 The various maintenance tasks such as site assessment, tree and shrub renovation, irrigation, lawn improvement, weed control, pest management, plant propagation and soil conditioning are presented with abundant illustrations and practical suggestions. Separate chapters on woody and herbaceous plants provide advice on selecting plants for particular functions as well as tables of recommended varieties for specific uses. A final section gives instructions on the timing of chores and provides a seasonal check list.
Each of the five chapters in the book ends with a set of simple guidelines for accomplishing the work. Suggestions are made for keeping a photographic record of your garden, constructing and updating a garden plan, preparing plant lists, and making a work schedule. Templates are provided for a garden log, plant portfolio, pruning notes, and propagating notes. Examples are given and numerous photographs from the author's garden illustrate the suggestions being presented.
The structure and order that the author brings to garden tasks makes them seem less daunting and more manageable. Coupled with the step by step instructions given for all the work necessary, this structure and order provide a firm foundation for maintaining a garden and taking advantage of the changes that inevitably occur.
To buy The Essential Garden Maintenance Workbook from Amazon.com click here