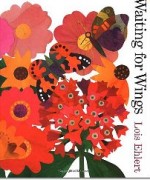 When the summer days are filled with butterflies feasting on garden flowers, you have an ideal time to introduce young children to the mysteries of a butterfly's life cycle. What better way to do it than to read Lois Ehlert's book, Waiting for Wings. She combines factual information with brilliant color and a rhymed text to create a superb book that will appeal to children 3 to 7, and even older.
Waiting for Wings is non-fiction and presents the story of butterflies from tiny eggs hidden on leaves, to caterpillars chewing, making a chrysalis, and changing into adults that take off into the garden in search of flowers. Just as the eggs grow, the caterpillars change, and the butterflies burst forth, the pages do too, going from small to full sized. Once the butterflies reach the garden they find many different flowers and Ehlert tells us how they unroll their tongues to eat nectar and after a while fly back to the fields to lay their eggs. At the end of the book Ehlert provides more detailed information on growing a butterfly garden, flower identification, butterfly anatomy, and four specific butterflies, buckeye, tiger swallowtail, monarch, and painted lady.
The very simple story line in large bold print that's easy to follow and the brilliantly colored illustrations are eye catching. The factual information at the end of the book is especially valuable for children as their curiosity about butterflies grows. Whether you want to interest a child in nature or just enjoy the beauty of butterflies in a garden, Ehlert's book will not disappoint.
To buy Waiting for Wings from Amazon.com click here.