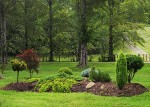 I love weeping plants so when I visited the demonstration gardens at Saura Nursery in Pinnacle, North Carolina I thought I had died and gone to heaven. There were so many beautiful weeping plants that it was hard to decide which ones were my favorites but my visit inspired me write this post.
The choice of a weeping plant involves a couple of important considerations. Not all weeping is the same; some plants are upright and only their branches weep, others have weeping main stems as well as branches. Placement of weeping plants is another important consideration. Weeping plants have a very distinctive look and too many weeping plants placed too close together lessens the impact and detracts from the unique look they can lend to the garden scene. They have to be well placed in the garden so that their weeping nature can be seen to its greatest advantage and add to the over all beauty of the garden.
It is hard to choose just a few so I have divided them into two groups, evergreens and deciduous based on their contribution to the garden in terms of year round interest and will present only the evergreens now and will save the deciduous ones for another post. The evergreen needles provide various shades and textures of green at a time with the garden is otherwise somewhat bare while deciduous plants have interesting skeletons made even more interesting when the branches and/or stem are pendulous. Both kinds of plants in their weeping habit have something special to offer and can be a big asset to a garden.
Here are my top picks for weeping evergreens. These trees may not be easy to find at your local nursery but they are well worth a hunt and can be found through the internet.
Picea pungens Glauca procumbens (Weeping Blue Spruce)
There is nothing prettier than the blue of a Colorado blue spruce. The garden variety (Picea pungens) are huge plants and grow upright but this is a creeping variety with the same vivid blue color. It is low growing, mounding and looks fabulous as both a ground cover or spilling like a waterfall over a rock wall or hill. It is equally at home used as a specimen plant or in a perennial garden. Hardy to zone 2, it likes full sun, medium moisture, and well drained, neutral to acid soil.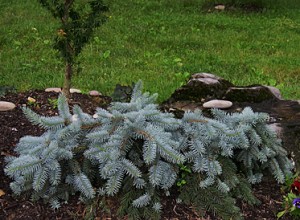 Picea omorika 'Bruns Pendula' (Weeping Serbian Spruce)
Growing only 6'-8' tall and 2'-3' wide in ten years, this is a great plant for a small space. The plant itself is very upright but bears branches that are very weeping. As it ages, the plant twists and curls adding another feature to its already interesting silhouette. Its foliage is also an asset; the needles are fine textured, dark blue-green above, and blue-white below. It is happy in zones 4-7b, likes sun to part shade, and prefers moist soil but will tolerate some drought.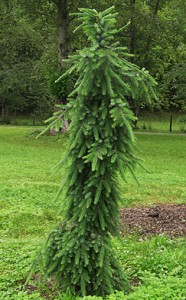 Picea abies pendula (Weeping Norway Spruce)
With its deep green color and its ease of cultivation, weeping Norway Spruce is a must for any garden. It can be trained into an upright weeping tree or allowed to sprawl as a ground cover. It looks good as a focal point, draped over rocks or walls, or on a hillside. Its growth habit is outward and if left untrained will grow 1'-3' tall and 10-'15' wide at maturity. If you want to grow it upright it will reach 6'. It grows slowly and you can nip the tips of the branches to meet the needs of your site. It adapts to a wide variety of conditions but grows best in full sun and light watering.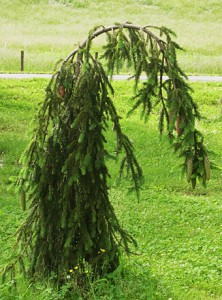 Cedrus Libani 'Beacon Hill' (Weeping Cedar of Lebanon)
Cedars of Lebanon have a special place in my heart because they have an historical significance that I found fascinating every year when I taught world history; the ancient Phoenicians (inhabitants of Lebanon) were hemmed in between the mountains and the sea and the only resource they had were the cedars. They used them to build ships and became the traders of the ancient world, going all the way to the island we know as Britain. This little fact has zero to do with the great value of the weeping form of these very significant trees, but I like rolling it over in my mind especially knowing that this is not the most easily grown tree.
Aside from its historical significance, it has some very positive virtues. Namely, it has more character than any other tree you will be lucky enough to meet. Did you notice from the picture that this one looks like a camel…well, it does to me. It is a real character plant and very picturesque! On the down side, it is intolerant of pollution, requires full sun but cool temperatures (darn), and is hardy in zones 6-7. It is slow growing and will reach 40'-60' in 40-70 years. The good news? It is not susceptible to most pests and is resistant to rabbits. What a great plant for those that can successfully grow it!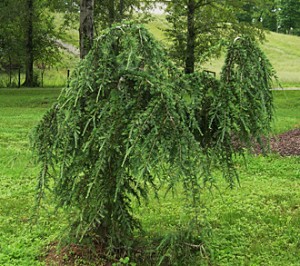 Pinus densiflora 'Pendula' (Weeping Japanese Red Pine)
I love two for one deals and this is one of them. You get the weeping growth habit as well as beautiful reddish brown bark in one gorgeous tree that is only 2' H x 5' W. I find the dark green 4"needles a luxuriant addition to my pinus collection (but I also love shelties). It thrives in full sun and acidic well drained moist soil.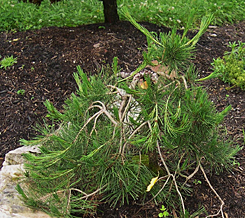 These are just five examples of weeping evergreens but there are many more that have great garden potential.  Search them out at your local nursery or garden centers and you will discover many new plants to grace your garden.
Thanks to Saura Nursery, Pinnacle, North Carolina (www.saurafarm.com) for their help and advice.
If your interested in weeping trees you might also be interested in another post titled Weeping Deciduous Trees