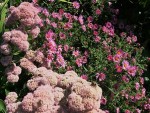 By the time August rolls around my garden usually looks like it needs a new lease on life. The heat and humidity have taken their toil, the insects, fungi, and wildlife have had their share and most of the perennials look tired and ready for a change. There are some, however, that are just beginning to strut their stuff and they brighten my heart as well as the garden. Some of these start in early August, others in mid or late August and go into September but all are important for their color and vigor during these dog days of summer.
Here are my favorite August blooming plants. They are reliable, easy to grow, and provide attractive foliage before and after they bloom.

Sedum 'Autumn Joy'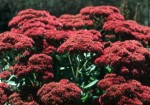 I could list this plant for any time during the summer or fall because its flower heads look as good when the buds are forming as when the plant is in full flower, or only seed heads remain. August seems to be the month when I enjoy it most as I watch the lovely green buds turn pink as they open but the show does not end until well into fall.
Size: 24" H x 24" W.
Bloom: Small pink flowers are borne dense clusters during August and change color during the fall to rich salmon, burgundy, and dark brown.
Light: Full sun to part shade.
Soil: Average, well drained; likes heavy clay soil.
Hardiness: Zones 3-9.

Black-Eyed Susan (Rudbeckia fulgida var. sullivantii 'Goldsturm')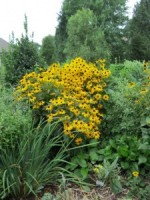 For a bright splash of color in a hot border you can't beat this perennial black eyed Susan. The plant is literally covered with bright flowers for weeks during mid to late summer into fall. Heat, humidity and rain don't phase it and it looks terrific in a formal garden or combined with ornamental grasses for a prairie look.
Size: 24-36" H x 24-36" W.
Bloom: Golden yellow daisy-like flowers appear in late July and continue until September.
Light: Full sun to part shade.
Soil: Average, well drained; needs moisture while growing but then tolerates some drought.
Hardiness: Zones 4-9.

Goldenrod 'Golden Fleece' (Solidago 'Golden Fleece)
The full flower heads of this garden variety goldenrod are beautiful from the time they start producing their chartreuse buds to when they open their golden yellow flowers. The combination of the green and yellow in the same flowerhead is especially pleasant. The foliage is attractive but can be cut back to the basal rosette after flowering. No, goldenrod does NOT produce hayfever, ragweed does.
Size: 18" x 18".
Bloom: Golden yellow heads of small flowers are produced from August to September.
Light: Sun but tolerates some shade.
Soil: Average, humusy, well drained.
Hardiness: Zones 4-9.

'Alma Potschke' New England Aster (Aster novae-angliae 'Alma Potschke')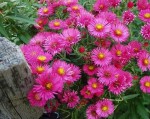 If you like hot pink this is the flower for you! Some people might say it is gaudy but it looks great in my garden when it blooms in August. It's a knock out next to blue hardy ageratum or monkshood and looks quite tame and lovely next to the gray leaves of artemesia. All it needs to look its best is a good pinching in late June-early july.
Size: 3' H x 3' W.
Bloom: Bright pink 2" blooms in August-September.
Light: Full sun to part shade.
Soil: Average, slightly acid, moist, well drained.
Hardiness: Zones 4-9.

Monkshood (Aconitum napellus)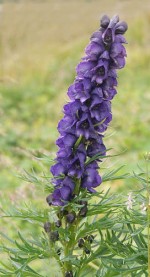 These stately plants with their unusual intense blue flowers are a great back of the border plant in rich moist soil. Their height and form make them a good substitute for delphinium. They do best in cool climates and are not the best choice for the Southern states. All parts of the plant are extremely poisonous a fact that led to the common name "wolf's bane'. The flowers consist of a helmet shaped structure that covers the other flower parts giving the plant another common name 'Monkshood'.
Size: 3-4' x 3' W.
Bloom: Intense violet-blue, uniquely shaped flowers borne in August-September.
Light: Full sun in north; part shade in southern part of its range.
Soil: Rich, constantly moist.
Hardiness: Zones 2-7.
A blue, two yellow, and two pink flowering perennials can really bring life back into a tired garden in August. I am planning right now while I can see how tired the garden can get to work some more of these great perennials into the garden plan.