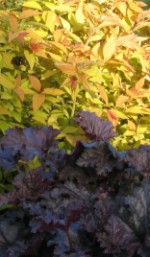 This handsome combination adds color and textural contrast over a long season. Beginning in spring the large, dark purple leaves of coral bells 'Obsidian' provide contrast to the small leaves of Spirea 'Goldflame' that emerge bronze-red and then turn yellow-green in the summer and yellow-orange in the fall. As a bonus, coral bells 'Obsidium' sends up delicate sprays of small bell shaped, creamy white flowers in spring while Spirea 'Goldflame' produces tiny pink flowers in dense flat topped clusters clusters in early summer and periodically thereafter. In the North both plants grow well in full sun and moist, well-drained soil. In the South Heuchera 'Obsidian' needs protection from afternoon sun and is best planted in the shade of Spirea 'Goldflame'.
Spirea japonica 'Goldflame'

This upright deciduous shrub forms a neat, dense mound of fine textured foliage that grows right to the ground. Flowers are attractive to butterflies and are produced on new growth so lightly shearing the plant after flowering may encourage more flowers. Although Spirea 'Goldflame' tolerates some shade the best color develops in full sun.
Bloom Time: Early summer
Size: 3-4' H x 3-4' W
Hardiness: Zones 4-8
Coral Bells (Heuchera) 'Obsidian'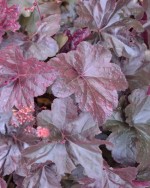 This herbaceous perennial is noteworthy for is its very dark color that remains throughout the summer. The palmately lobed leaves are produced on long petioles and form an attractive evergreen mound in warm climates. Leaf sun scorch can be a problem if plants dry out so even moisture is essential for best performance. Removing the flower stalks as the flowers fade encourage rebloom but some gardeners consider the flowers unattractive and remove them as they appear.
Bloom Time: Early summer
Size: 12-24' H x 8-18" W
Hardiness: Zones 4-9