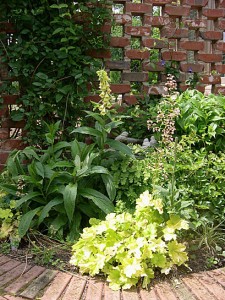 Yellow foxglove planted with 'Key Lime Pie' coral bells makes a lovely combination in a partly shady spot in late spring to early summer. The many shades of chartreuse produced by the leaves of the coral bells decorate the garden from spring to fall but are especially pretty when the foxglove produces its tall stems of soft yellow flowers. Both plants do well in medium moist, well-drained soil and are truly perennial.
Large Yellow Foxglove (Digitalis grandiflora)


Native to woods and stream banks in Europe and Asia, yellow foxglove is a clump forming herbaceous perennial that sends up tall racemes of pendulous soft yellow flowers up to two inches in length. The flowers resemble finger tips, giving rise to the generic name, digitalis meaning "belonging to a finger" in Latin. Although not as showy and ornamental as the more common biennial foxgloves, yellow foxglove will reliably return to the garden year after year. Plants will also reseed if the flower stalks are left in place.
Bloom Time: Late spring to early summer
Size: 2-3' H x 1-1.5' W
Hardiness: Zones 3-8
Coral Bells (Heuchera) 'Key Lime Pie'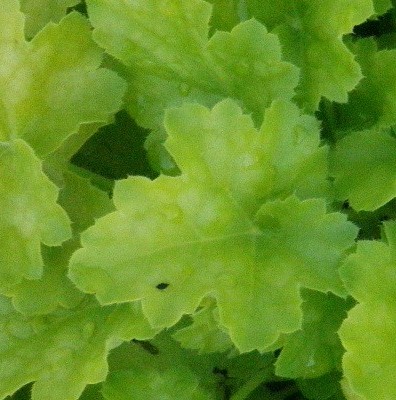 A vigorous clump forming perennial, 'Key Lime Pie' leaves emerge chartreuse in spring and slowly change to lime green in summer. The leaves are lobed, rounded, and unruffled, and may be evergreen in warm climates. The foliage alone is a good reason to grow 'Key Lime Pie', but the plant also produces tiny light pink flowers in spring on sixteen inch tall spires.
Bloom Time: Spring; foliage attractive from spring to fall
Size: 8-18" H x 12-18" W
Hardiness: Zones 5-9