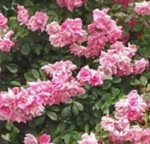 Earth-Kind is a designation given to roses by the Texas AgriLife Extension Service after extensive testing that evaluates pest tolerance as well as outstanding landscape performance. It tells the public that the roses are tough and thrive in very difficult conditions with minimal maintenance. Once they are established, Earth-Kind roses are able to grow without pesticides, fungicides, or fertilizers and with greatly reduced irrigation. They tolerate a variety of soil types from well-drained acid sand to highly alkaline clays and once established are tolerant of heat and drought. The total number of roses on the list at this writing is twenty one, making this a very special group especially for environmentally conscious gardeners.
The following four roses are Earth-Kind climbers that vary primarily in color, size, and vigor. The first two, "Pinie Cl.' and 'Se Foam'are described by the Texas AgriLife Extension Service as "mannerly" while the second two, 'New Dawn' and 'Reve d'Or'are considered "vigorous'
'Pinkie, Cl'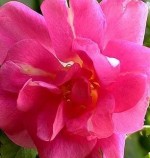 A sport of 'Pinkie', this floriferous rose has fragrant flowers carried in clusters of five to twenty five. The petals of the flowers are semi double, to double, medium pink and reflexed. The bright green leaves are thin and glossy and the stems are flexible and thornless. One half inch hips are produced in the fall.
Type: Polyantha Cl
Color: Medium pink
Flower Size: 2.4"
Petal Count: Semi double to double
Plant Size: 10' H x 7'' W
Flowering: Repeats
Scent: Medium to strong
Hardiness: Zones 6-9
ARS Rating: 8.2
'Sea Foam'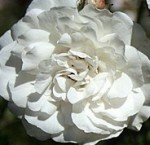 'Sea Foam' can be considered a groundcover, shrub or short climber. It has white flowers with a pink and perly tinge at the center that fades quickly and an old fashioned form. The long lax stems carry a lot of prickles and small, dark green glossy leaves.
Type: Shrub
Color: Off white
Flower Size: 2"
Petal Count: 35
Plant Size: 3-10' H x 4-6.6' W
Flowering: Repeats well
Scent: Light and musky
Hardiness: Zones 4-9
ARS Rating: 8.1
'New Dawn'

One of the most popular climbers, 'New Dawn' may also be one of the more vigorous. It has long elegant buds that are produced singly or in clusters and open to pale pink flowers with wavy petals. The glossy young foliage is bronze green before turning dark green and the stems are arching and prickly. The plants tolerates poor soil and some shade ,and are a good choice for a tree, wall or trellis.
Type: Large Flowered Climber
Color: Pale pink
Flower Size: 2.8-4"
Petal Count: 26-35
Plant Size: 15-20' H x 10' W
Flowering: Big flush in spring followed by sporadic blooms
Scent: Medium and sweet
Hardiness: Zones 4-9
ARS Rating: 8.4
'Reve d'Or'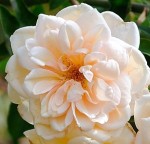 The English translation of 'Reve d'Or is golden dream and this nicely describes this outstanding climber. Thereddish buds are stocky and open to flowers that are carried singly or in clusters of two to fifteen. The petals are golden yellow with pale edges and apricot reverses, giving an over all look of buff gold. The dense glossy foliage clothes the bush from the ground up and is red when young before turning dark green. The stems are almost thornless and the flowers of retain their color well. An excellent choice for a climber in warm climates.
Type: Noisette
Color: Medium yellow
Flower Size: 2.4
Petal Count: 23-30
Plant Size: 10-18' H x 8' W
Flowering: Flushes
Scent: Strong and tea-like
Hardiness: Zones 7-9
ARS Rating: 9.2
To read more about Earth-Kind and other low maintenance roses click here.