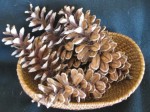 When the holiday season comes cones of various sorts appear hanging on trees and laying on the ground offering an almost irresistible opportunity for collecting and using them in holiday decorations. I for one collect cones everywhere I go and I have derailed more than one itinerary by pursuing my collecting inclination.
1. Cones are produced by conifers. The word conifer means "conebearing". Many conifers, like pine, spruce, fir and juniper are evergreen and have needles or scales, but some are deciduous, like larch. In addition, not all evergreens produce cones; holly, for example, is evergreen but not a conifer and does not produce cones.
2. The cones of some conifers, like juniper and yews, are fleshy and look like berries. Wildlife eat the berries and some people make gin out of juniper berries.
3. Cones are either male or female and are usually produced on the same tree but with the male cones located below the female cones. Male cones are small, herbaceous (not woody), bear pollen, and are usually borne in large clusters sometimes just on the base of the branches. Female cones, on the other hand, are significantly larger and bear ovules that become seeds after fertilization. They are usually borne singly or in small clusters sometimes just on the tips of the branches.
4. Cones may be considered fruits. The botanical definition of a fruit is "a seed bearing structure" so female cones can be considered fruits when they have been fertilized and form seeds. Male cones, however, only contain pollen so could never be fruits.
5. Cones are made up of two types of scales, those that are coarse and/or woody, the other that is papery and bear the ovules that will become seeds if fertilized.
6. The scales of the female cones open in order to receive pollen, close during fertilization and seed maturation, and then open again for seed dispersion. This process can take from 6 to 24 months.
7. The scales of most mature female cones containing seed open and close in response to moisture. When conditions are dry they open allowing the light seeds to be blown by the wind for a significant distance from the "mother" tree. Under wet conditions when seed dispersal would not be advantageous, the scales close. (Some conifer seed are dispersed by birds.)
8. Some trees like lodgepole pine and longleaf pine have cones that open when exposed to fire. The cones are covered with resin and can't open until the high temperatures associated with fire melt the resin. The trees also have some cones that open without fire so they can shed seed when fire is lacking too.
9. Most of the woody cones you see for sale or associated with trees are probably pine cones, but some could be spruce, fir, cedar or cypress.
10. The largest woody cones in the US are from the sugar pine (Pinus lambertiana) which measure up to 18" long. These trees are found in the mountains of the West especially in those of Caliornia and Oregon. The most massive cone is produced by the Couter pine (Pinus coulter) found in the southern California mountains and weighting up to 10 pounds. The smallest woody cones are hemlock cones at less than an inch.
Picture of male loblolly cone courtesy of Wikipedia.