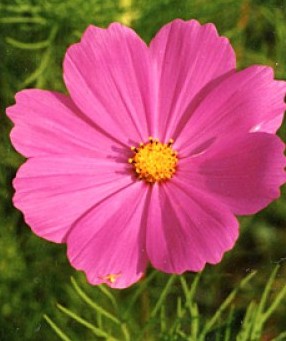 This easy to grow annual is native to Mexico and belongs to the aster family (Asteraceae)  that also includes daisies, sunflowers and lettuce.  The medium green foliage is greatly dissected and has a delicate texture. The daisy-like cup -haped flower heads are two to four inches across and have pink, white or maroon ray flowers surrounding yellow disc flowers. They appear on slender erect stems from spring until fall but may slow down in heat and humidity. Many cultivars are available including those with dwarf stature, bicolored petals, quilled petals, and semi-double or fully double flowers. Plants are easily grown from seed and self-seed. In addition to beneficial insects, Cosmos attracts beneficial spiders. Heavy rain and wind may cause damage to plants and staking may be necessary.

Type: Annual
Size: 2-6 ' H 1-3' W
Light: Full sun but tolerates some shade
Soil: Average, medium moist, well-drained
Hardiness: Half hardy annual
Beneficial Insects Attracted: Butterflies, big-eyed bugs, damsel bugs, hoverflies, lacewings, ladybugs, minute pirate bugs, parasitic wasps, syrphid flies, and tachinid flies.