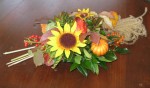 When Thanksgiving rolls around I am often able to collect a considerable amount of foliage and other plant material from the garden to make an arrangement. I always have grasses of various sorts and in some years I can even find a few flowers in some hidden place where the frost and cold has not found it. I wander through my garden and take a sample of the things I think I could use and I am amazed when I get it all together how much there is. True, some years there is less than others but I can always supplement from the grocery store or one of the dollar stores. And I have no qualms about mixing, live, dried, and silk material.
This year the cold has come late and I have quite a few nice looking things from the garden. I look for variations in color, texture, and shape. My foliage collection included:

Crepe myrtle,
My flowery material included:

Miscanthus grass 'Morning Light', with stems cut off but saved,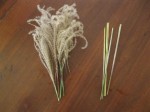 Holly berries with leaves removed,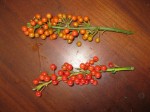 Store bought items included:

and Sunflowers (mums would work just as well).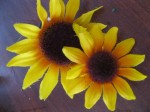 Other supplies were:  1/3 of a block of floral foam (Oasis), floral picks, and a low saucer like container.  Optional items include candles, ribbon for bows, pods, and florist wire and tape.
I wanted an arrangement for the dinning room table so it had to be low enough for all the guests to see over it. I began by putting my foam in a low container with the foam fairly high. I cut my grass stems so I could put the insert the bear stems in one end of the foam,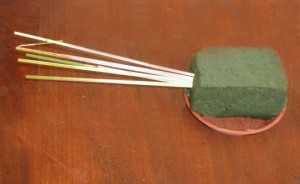 and the heads in the other. This way the stems don't have to pass entirely through the foam, taking up room where other stems need to go, and the placement of stems and flower heads is easier.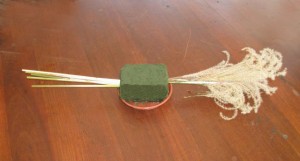 The green leaves were added next; a thick collar around the base but enough on the sides and top so that the foam was almost entirely covered. I knew that I would be adding the red and orange foliage so some small spaces left without greenery was OK. The large shiny leaves of the magnolia was a nice contrast to the smaller leaves of the privet. I was able to stick them into the foam by their petioles but I could have attached picks to secure them in the foam.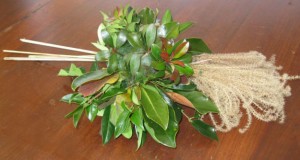 Next came the red, orange, and yellow leaves of the kousa dogwood, fothergill, and crepe myrtle.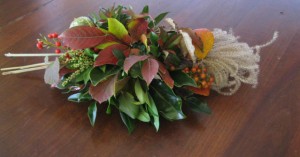 The holly berries and andromeda were added,  two at a time on the diagonal; then the flowers and other ornamentals; mini gourdes are added by piercing them with floral picks and then inserting the pick into the arrangement.  You can use any fall colored flowers. Mums are an inexpensive and attractive choice; they come in many colors and forms and are the essence of autumn. Short on flowers? Use other plant material like lotus seed pods, or milkweed capsules. Need color? Use ribbon and make a bow, pick it, and add it to the arrangement. If the bow is too large, make a loop, pick it, and add.  Want some height?  Add candles, but arrange them so people can see through them.  (To add candles, tape 2 picks to the bottom of the candle with florist tape or buy candle receptacles made for arrangements)  This is the time when you can use whatever you have and do what you want.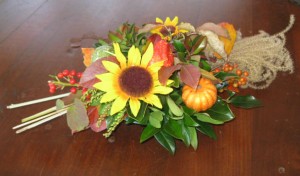 Notice that the arrangement is low so it will not interfere with conversation at the dinning room table. It has the fall colors and is full of natural materials (or look-a-likes). The key to success is selecting interesting plant material, whether real, dried or silk, and using it so that there is a variety of color, texture, and shape that will catch and please the eye.