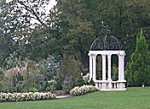 Hot weather and some spits of rain continue to push the plants to move along their life cycle at lightening speed. That is nothing new for this area but it is disappointing to see flowers fade and plants languish no matter what the reason. But the good news is that many plants are loving the hot, humid weather, as some people do, and are thriving.
The roses are some of those plants; I thought I had hit the high last week but no, this week has been even better. New plants are coming forth with blossoms, more plants are producing more flowers, and virtually no plants are cutting back production. That is not all bad! 'Belinda'. A hybrid musk, has been spitting all summer but has now put out some lovely fragrant sprays that welcome the visitors as they approach the rose garden.
'Autumn Sunset' climbs on the arbor entrance to the rose garden and has finally produced some beautiful sprays of flowers. It is not her best show but quite respectable especially since the fragrance of the roses she produces is divine and set the stage for the whole rose garden experience.
'Lillian Austin' is one of my greatest joys. It was the ugliest bush I had ever seen and the salesperson had to do a real number on me to persuade me to buy it. She told me that it would be the most beautiful rose in my garden (on the ugliest bush) and I gave in and brought it home. I watched it grow in its awkward way and resolved to throw it out or give it away (who would want it?) at the end of this season but low and behold, it has come of age and is a decent looking bush still producing the most beautiful flowers in my garden. The flowers are pink but are suffused with lemon yellow at the base and open in multipeteled layers. You really have to see it real life to fully appreciate its beauty.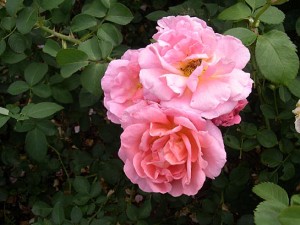 'Hawkeye Belle' is another bush that is a wonder. I bought it as a clearance rose from Home Depot in late summer two years ago. It was very bedraggled and sad looking and I never thought it would amount to much, but I am into rose rescue so I gave it a home. It struggled that year, and the next year too. It is a Buck rose, bred for the cold temperatures in Iowa, so I really could not blame it for refusing to grow or bloom in my hot, humid, North Carolina garden. Low and behold, this year, it has a new life and is blooming with abandon. I guess it just needed some understanding, time, and tender loving care (not to mention a lot of water and fertilizer). Whatever, it is lovely!
The allee has become a lovely retreat from the hot sun. The impatiens have filled out and are providing the strong converging lines that give the allee its charm.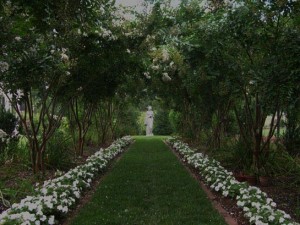 The secret garden has been just the right home for this pink foxglove that reseeded itself last year.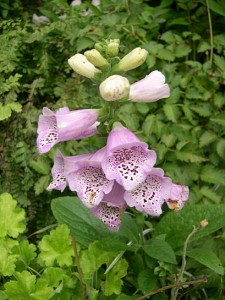 In another area of the secret garden the striking red cardinal lobelia has put up its tall shoots. I decided last year that it really didn't go with anything else in this garden but it seems to have ignored my wishes and returned with vigor.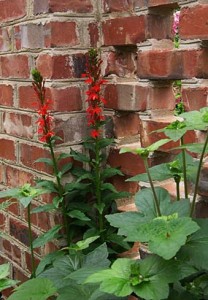 One of the most noteworthy plants in my garden is Sedum "Autumn Joy' because I enjoy it at all times of the year. But right now it is at my all time favorite stage with its green buds. To be sure, I have enjoyed the fleshy blue-green leaves and stems that have been growing since early spring , but this week when it put out its green buds, I really became excited. I fully admit that I am partial to green flowers but the texture of these buds against the smooth leaves is really out of this world and the slow development of color will be beautiful but I will look forward to this time next year when the green buds dominate the scene.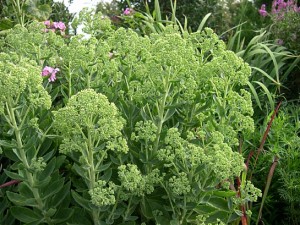 I don't know what to do about the hyssop (Agastache). It has been a very cooperative and well behaved plant in my garden; I like its soft apricot color, but I just don't know what to pair it with to do it justice. Here it is growing with Salvia farinacea 'Victoria', a plant I dearly love, would not do without, but replant every year as it is an annual in my garden. I can easily change the Salvia to a better mate for the hyssop, but what?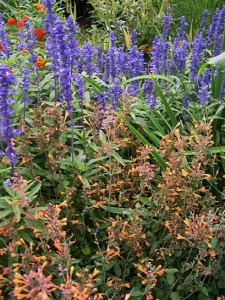 I have a giant in my garden now, hardy hibiscus. It acts and looks like a shrub but disappears in the winter. When it returns in the late spring it grows like Jack's bean stalk until now when it puts out masses of huge flowers.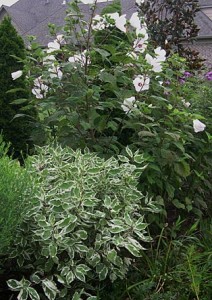 You have to see these flowers to believed they are real.   They only have 5 petals but they are like fine silk and fade gracefully away quickly, to be quickly replaced by new flowers. They will only last an hour if cut and put into a vase. How sad!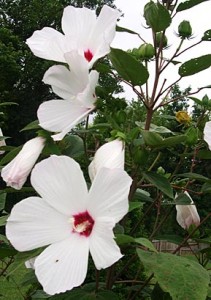 And if you want to really zero in on the flowers you will see that the reproductive elements have been fused into a gorgeous ornament in the center of the flower.
Looking at the hibiscus flower I can not help but wonder at the creation of it all. I am awed at the beauty in nature and never tire at looking at it and finding new, interesting things to explore. Today hibiscus, tomorrow what? We'll see…there are an infinate variety of things out there.

| | | | | | | |
| --- | --- | --- | --- | --- | --- | --- |
| | | | | | 1 | 2 |
| 3 | 4 | 5 | 6 | 7 | 8 | 9 |
| 10 | 11 | 12 | 13 | 14 | 15 | 16 |
| 17 | 18 | 19 | 20 | 21 | 22 | 23 |
| 24 | 25 | 26 | 27 | 28 | 29 | 30 |
| 31 | | | | | | |

| | | | | | | |
| --- | --- | --- | --- | --- | --- | --- |
| | 1 | 2 | 3 | 4 | 5 | 6 |
| 7 | 8 | 9 | 10 | 11 | 12 | 13 |
| 14 | 15 | 16 | 17 | 18 | 19 | 20 |
| 21 | 22 | 23 | 24 | 25 | 26 | 27 |
| 28 | 29 | 30 | | | | |

| | | | | | | |
| --- | --- | --- | --- | --- | --- | --- |
| | | | 1 | 2 | 3 | 4 |
| 5 | 6 | 7 | 8 | 9 | 10 | 11 |
| 12 | 13 | 14 | 15 | 16 | 17 | 18 |
| 19 | 20 | 21 | 22 | 23 | 24 | 25 |
| 26 | 27 | 28 | 29 | 30 | 31 | |

| | | | | | | |
| --- | --- | --- | --- | --- | --- | --- |
| | | | | | | 1 |
| 2 | 3 | 4 | 5 | 6 | 7 | 8 |
| 9 | 10 | 11 | 12 | 13 | 14 | 15 |
| 16 | 17 | 18 | 19 | 20 | 21 | 22 |
| 23 | 24 | 25 | 26 | 27 | 28 | 29 |
| 30 | 31 | | | | | |

| | | | | | | |
| --- | --- | --- | --- | --- | --- | --- |
| | | 1 | 2 | 3 | 4 | 5 |
| 6 | 7 | 8 | 9 | 10 | 11 | 12 |
| 13 | 14 | 15 | 16 | 17 | 18 | 19 |
| 20 | 21 | 22 | 23 | 24 | 25 | 26 |
| 27 | 28 | 29 | 30 | | | |