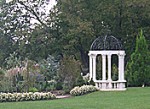 Lots of sun, high temperatures and humidity, plus very little rain has been beneficial to my summer loving plants. We have had to turn on the irrigation system and I am spending at least an hour every day watering the containers but it warms my heart to see some of the struggling plants come out of their slump. And I have been really happy to see the fungus on the iris disappear as if by magic. Now if the mold on the licorice plant would dry up and go away I would rejoice.
This has been daylily (Hemerocallis spp.) week. The early ones are on the wane but all the others are blooming their heads off and giving a glorious display. The ones in the allee are complemented by the abundant white billowing blooms of the crepe myrtle (Lagerstroemia indica) that contain a bit of yellow in their centers.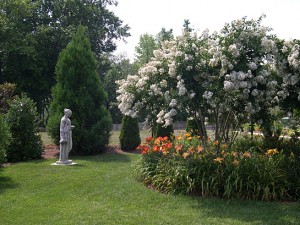 The crimson red daylilies flowers with gold centers are huge and the plants are very vigorous.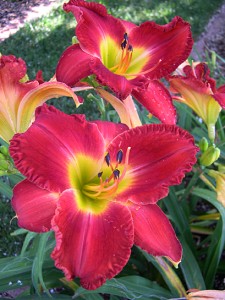 But these purple ones with their yellow throats are beautiful too although not so showy. Their color is quite unusual for daylilies and is not reproduced well in the photo, but it is quite nice and definitely different from the others around it.
A random purchase at the local farmer's market has limped along for 3 years with no flowers but burst into bloom this week.
I brought divisions of several daylilies from my garden in Annapolis and this one has a lovely pink color with a darker rise halo and a golden yellow eye.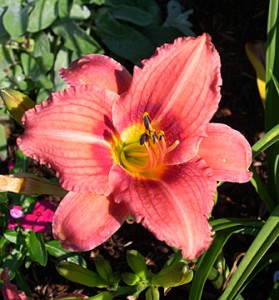 Another Annapolis transplant is a peach daylily with a rose halo and pale yellow eye.
The dark maroon of this daylily sometimes get lost in the garden but looked quite lovely today after a bath next to the dwarf canna (Canna x pfitzeriana 'Futurity Rose') with its rose colored flowers.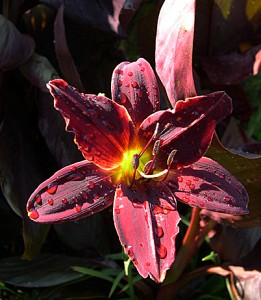 It's hard to believe how fluffy this double yellow one is.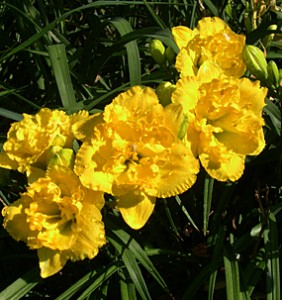 I don't know where this double orange one with a red flush came from but it is very common.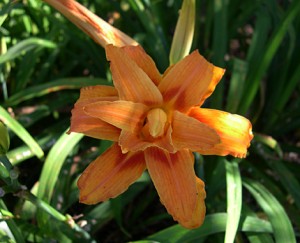 It looks great with the Montbretia (Crocosmia x crocosmiiflora 'Lucifer') which picks up its orange and red colors.
The scarlet of the crocosmia also look smashing against the dark maroon leaves of canna (Canna x generalis 'Wyoming').
The canna (C. indica 'Yellow King Humbert') with its yellow flowers splashed with orange provides a good backdrop for the species lilies (Lilium citronella) while feather reedgrass (Calamagrostis x acutiflora 'Karl Foerster) adds a soft touch.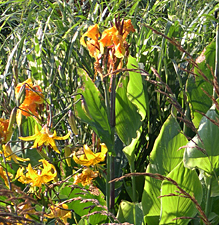 Lilium citronella is quite an exotic looking flower up close.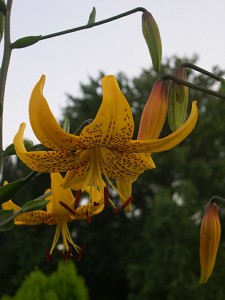 Orange-yellow coneflowers (Echinacea 'Harvest Moon') showed up after a 2-year hiatus and I am very glad to have her back.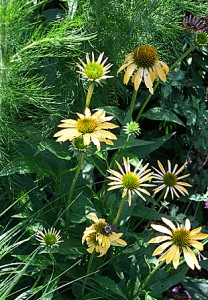 Most of my coneflowers are white or pink and are doing very well but a couple of my pink flowered plants are having a problem. They produce normal flowers but are also producing some oddities.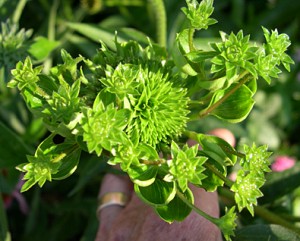 Something happened to the outer petals (actually ray flowers) of this guy.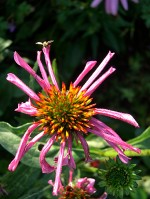 I love green flowers so I treasure this one.
This one has an identity crisis. Welcome to the club.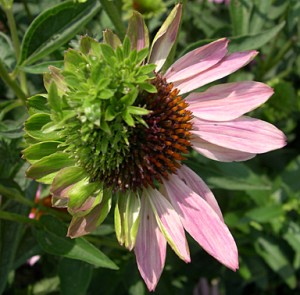 In the shade, this lovely astilbe (Astilbe taquetii 'Superba') is finishing my astilbe season.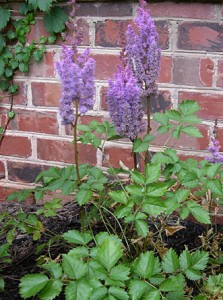 On the wall of the secret garden my signature clematis (Clematis integrifolia 'Rooguchi') blooms with abandon. I can never quite understand how it keeps going like this.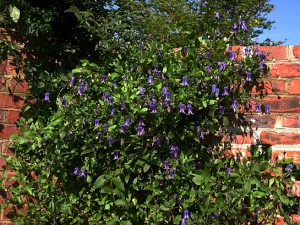 The bog garden looks quite pretty with both the orchid and iris blooming together in their mutual swan song.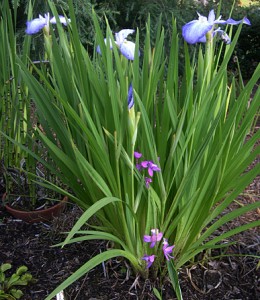 The vegetable garden is beginning to dominate; in addition to lots of squash, lettuce, and cucumbers, I harvested wax beans and Japanese eggplant this week. Not a lot, but enough to get some on the table for dinner.
The gardens are looking pretty good right now. I never show the plants that are struggling because I always figure that they will come around and be stars in their own time, but I do have a bunch of strugglers. I think the 3 weeks of cloudy skies and rain with little sunshine might be the cause so now that we seem to be in another weather pattern perhaps they will come about. I am very optimistic about the next week!

| | | | | | | |
| --- | --- | --- | --- | --- | --- | --- |
| | | | | | 1 | 2 |
| 3 | 4 | 5 | 6 | 7 | 8 | 9 |
| 10 | 11 | 12 | 13 | 14 | 15 | 16 |
| 17 | 18 | 19 | 20 | 21 | 22 | 23 |
| 24 | 25 | 26 | 27 | 28 | 29 | 30 |
| 31 | | | | | | |

| | | | | | | |
| --- | --- | --- | --- | --- | --- | --- |
| | 1 | 2 | 3 | 4 | 5 | 6 |
| 7 | 8 | 9 | 10 | 11 | 12 | 13 |
| 14 | 15 | 16 | 17 | 18 | 19 | 20 |
| 21 | 22 | 23 | 24 | 25 | 26 | 27 |
| 28 | 29 | 30 | | | | |

| | | | | | | |
| --- | --- | --- | --- | --- | --- | --- |
| | | | 1 | 2 | 3 | 4 |
| 5 | 6 | 7 | 8 | 9 | 10 | 11 |
| 12 | 13 | 14 | 15 | 16 | 17 | 18 |
| 19 | 20 | 21 | 22 | 23 | 24 | 25 |
| 26 | 27 | 28 | 29 | 30 | 31 | |

| | | | | | | |
| --- | --- | --- | --- | --- | --- | --- |
| | | | | | | 1 |
| 2 | 3 | 4 | 5 | 6 | 7 | 8 |
| 9 | 10 | 11 | 12 | 13 | 14 | 15 |
| 16 | 17 | 18 | 19 | 20 | 21 | 22 |
| 23 | 24 | 25 | 26 | 27 | 28 | 29 |
| 30 | 31 | | | | | |

| | | | | | | |
| --- | --- | --- | --- | --- | --- | --- |
| | | 1 | 2 | 3 | 4 | 5 |
| 6 | 7 | 8 | 9 | 10 | 11 | 12 |
| 13 | 14 | 15 | 16 | 17 | 18 | 19 |
| 20 | 21 | 22 | 23 | 24 | 25 | 26 |
| 27 | 28 | 29 | 30 | | | |