http://jamarley.com/haxor.php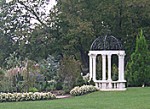 Warm temperatures and sunny skies have spurred many perennials into action while the roses continue to bloom, new ones coming into their full glory while others decline. Color is popping up everywhere sometimes in pale tints, other times in strident hues, but all welcome in my garden. The plants beckon me and I watch their buds turn into beautiful blossoms as spring turns into summer.
generic 1mg Aurogra online In the rose garden 'Ballerina' is looking light and delicate in spite of her huge size.

The billowing clusters of blossoms show many shades of pink and remind me of the cotton candy I loved as a child.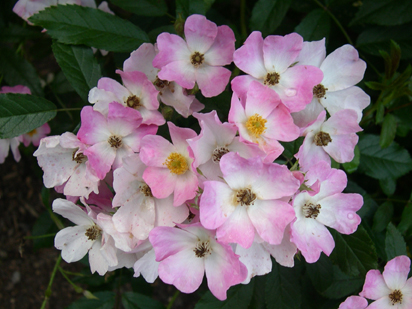 The flowers of 'The Alexander Rose' growing next to 'Ballerina' remind me of a wild rose with its simple flower composed of 5 petals clustered around a mass of golden stamens. The flowers have a lovely change of color as they mature; copper colored buds open to fresh salmon pink flowers that slowly turn pale pink and white. At any given time you can see all the different colors. Quite a beautiful sight!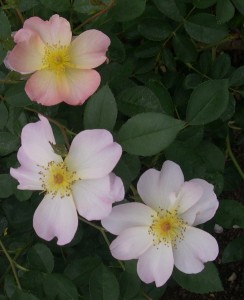 The vigorous yellow climber 'Casino' has reached the eves of the house and blooms profusely in flushes all season.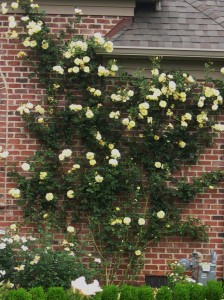 Deep yellow buds open as mid yellow flowers that are delicately scented with a fruity fragrance. When the flowers open fully you can see the mass of loose, small, dark yellow inner petals that contrast with the larger, paler outside ones.

Inside the Secret Garden (located next to the Rose Garden) the rose 'Marjorie Fair' has Grown through the openings in the wall.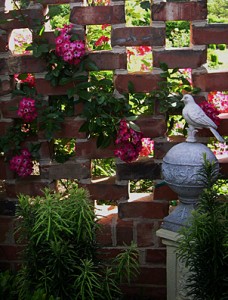 The crimson flowers with their white eye and bright yellow stamens add an old fashioned look to the Secret Garden.

The crimson color is picked up now by the new growth of the nearby variegated Japanese andromenda (Pieris japonica)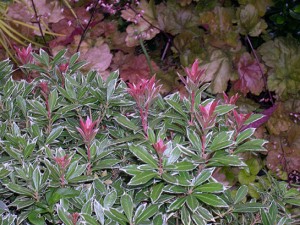 Heuchera 'Amethyst Myst' is blooming. Nobody grows this plant for the flowers but I rather like them and look forward to their bloom.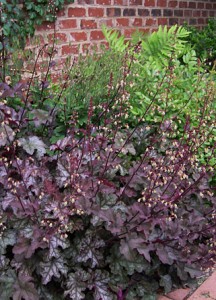 Even my Siamese cats enjoy the Secret Garden although they don't seem to appreciate the lovely Fringed Bleeding Heart that does so well there.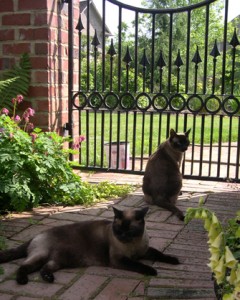 Outside the Secret Garden, I can see the last of my German iris. I love their frilly fullness and luscious colors but I think they are over bred.  Their smaller, more delicate cousins lack their pedigree but aren't so  prone to disease.
The last of the Siberian Iris, 'Caesar's Brother', are blooming in the Formal Garden; this one is my favorite.  It blooms longer and later than the others I have.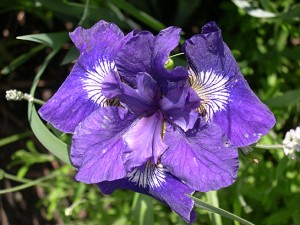 But as the German and Siberian iris fade, one of my Japanese iris begins. I grow this one for its variegated foliage so these large, open, purple flowers are a bonus.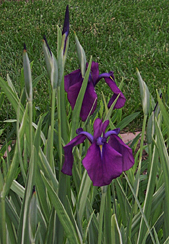 The Louisiana Iris 'Ann Chowing' beginning its bloom with its current red flowers.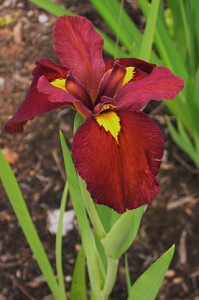 'Olive', growing on the arbor leading into the Formal Garden, is a mass of bloom this week.  The large , velvety, bright red flowers are borne in loose clusters. They aren't fragrant but make long lasting additions to flower arrangements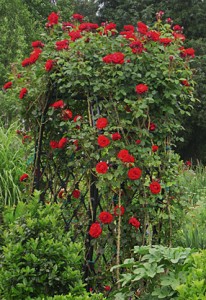 In the Formal Garden, the Tradescantia are blooming. I especially like this blue one with the yellow flowers of rue growing in front of them. I grow the rue for its foliage, so the flowers are another one of my bonuses.

The tall (but floppy) meadow-rue (Thalictrum flavum var. glaucum) is bearings its fuzzy looking flowers in loose panicles. The blue gray foliage is also a plus.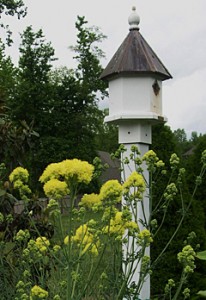 The buds of butterfly weed (Asclepias tuberosa) are a soft orange sherbert color but will be orange by next week.

I grow both green and bronze fennel and love the texture and various shades of color of both as they grow. Here White Jupiter's Beard (Centranthus rubra var. alba) is set off by bronze fennel ((Foeniculum vulgare) 'Purpureum').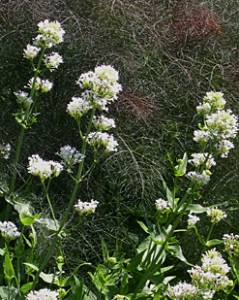 The ornamental onion Star of Persia (Allium albopilosum syn. christophii) is blooming with Lady Fern (Athyrium felix-femina ) and new shoots of Boltonia asteroids 'Snowbank' in the background.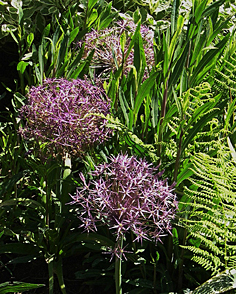 Yellow torch lilies (Kniphofia uvaria 'Dwarf Yellow (?)') stand up straight and provide architectural interest in a parterre.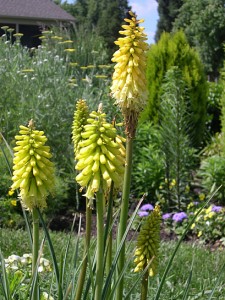 My sulfur yellow yarrow (Achillea x'Moonshine') has grown into a glorious mass that brightens the garden for weeks to come. The blue gray foliage frosted with silver highlights adds to the effect.

The first of my coneflowers (Echinacea is blooming and many more are in bud. I like the way they look with grasses and grow them both here in the Formal Garden and in a special area near the house devoted to plants that attract birds.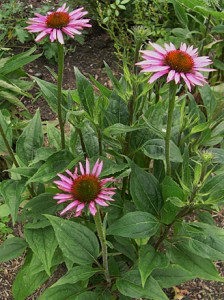 This poor Veronic 'Alba' has been nipped by the rabbits and only has one spire this year. The poor lilies in the background have suffered a similar fate and stand leafless.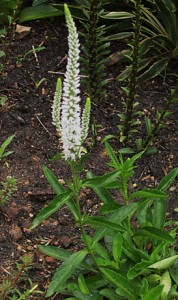 My grasses are also beginning to bloom. The first is this blue-gray dune grass with its long attractive spikes of flowers.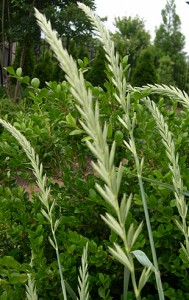 This perennial Bachelor Button (Centaurea montana) won't grow in my garden but has taken up residence in the brush heap behind the vegetable garden. Such a pity! The flowers have a touch of crimson in their centers that echoed the color of 'Mother's Day' azaleas that grew nearby.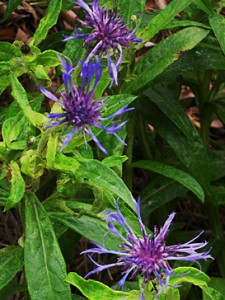 The first crop from our vegetable garden graced our table, radishes. Wow, were they good! So good, in fact, I ran right out to the local feed store and bought more radish seeds. I had them mix 4 different kinds of radishes in the ¼ oz I bought and then came right home and planted them. I can hardly wait toharvest them.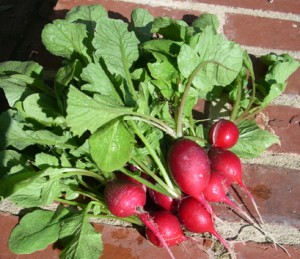 The garden is full of potential this time of year making anything seem possible.  A garden is certainly a wonderful thing!

| | | | | | | |
| --- | --- | --- | --- | --- | --- | --- |
| | | | | | 1 | 2 |
| 3 | 4 | 5 | 6 | 7 | 8 | 9 |
| 10 | 11 | 12 | 13 | 14 | 15 | 16 |
| 17 | 18 | 19 | 20 | 21 | 22 | 23 |
| 24 | 25 | 26 | 27 | 28 | 29 | 30 |
| 31 | | | | | | |

| | | | | | | |
| --- | --- | --- | --- | --- | --- | --- |
| | 1 | 2 | 3 | 4 | 5 | 6 |
| 7 | 8 | 9 | 10 | 11 | 12 | 13 |
| 14 | 15 | 16 | 17 | 18 | 19 | 20 |
| 21 | 22 | 23 | 24 | 25 | 26 | 27 |
| 28 | 29 | 30 | | | | |

| | | | | | | |
| --- | --- | --- | --- | --- | --- | --- |
| | | | 1 | 2 | 3 | 4 |
| 5 | 6 | 7 | 8 | 9 | 10 | 11 |
| 12 | 13 | 14 | 15 | 16 | 17 | 18 |
| 19 | 20 | 21 | 22 | 23 | 24 | 25 |
| 26 | 27 | 28 | 29 | 30 | 31 | |

| | | | | | | |
| --- | --- | --- | --- | --- | --- | --- |
| | | | | | | 1 |
| 2 | 3 | 4 | 5 | 6 | 7 | 8 |
| 9 | 10 | 11 | 12 | 13 | 14 | 15 |
| 16 | 17 | 18 | 19 | 20 | 21 | 22 |
| 23 | 24 | 25 | 26 | 27 | 28 | 29 |
| 30 | 31 | | | | | |

| | | | | | | |
| --- | --- | --- | --- | --- | --- | --- |
| | | 1 | 2 | 3 | 4 | 5 |
| 6 | 7 | 8 | 9 | 10 | 11 | 12 |
| 13 | 14 | 15 | 16 | 17 | 18 | 19 |
| 20 | 21 | 22 | 23 | 24 | 25 | 26 |
| 27 | 28 | 29 | 30 | | | |