http://lawnsandsprinklersusa.com/wp-includes/alfacgiapi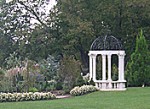 We have been on a snorkeling trip in the Bahamas this week so I have no idea what the weather was like but I do see that most of my plants have thrived. The grass and gardens are irrigated and the head gardener set up a temporary drip irrigation system for the potted plants so we left with the expectation that all would be fine.
buy modafinil online uk paypal We had some new plants making their debut in the formal garden this week. New York aster 'Alma Potschke' (Aster novae-angliae 'Alma Potschke') looks lovely in hot pink against the frosty blue of Russian Sage (Pervoskia artriplicifolia).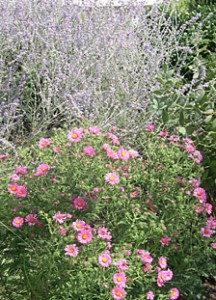 Her flowers are about 1" across and the petals are slightly curled.
Near by, showy stonecrop (Sedum spectabile 'Carmen') is looking great with artemesia (A. x 'Powis Castle') and Salvia farinacea 'Victoria'.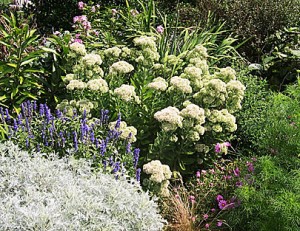 The flowers of the sedum are just beginning to show their pink color.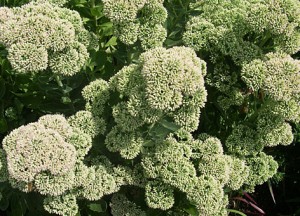 Apparently the bugs find 'Carmen' irrestible.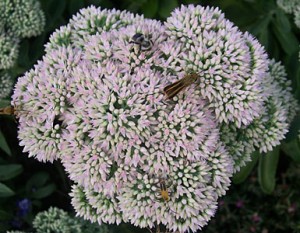 Another artemesia , Seafoam Wormwood (Artemesia versivolor 'Seafoam') finds companionship with annual ageratum (Ageratum houstonianum).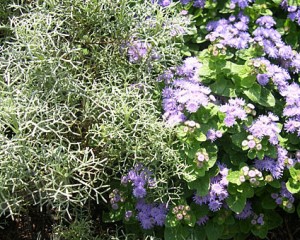 Boltonia (Boltonia asteroids 'Snowbank') is in bloom but will exceed this effort in the days to come.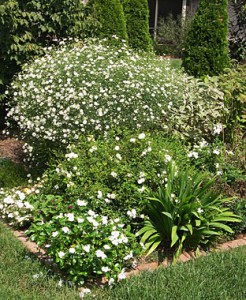 The individual flowers look like little daises and cover the plants for a couple of weeks.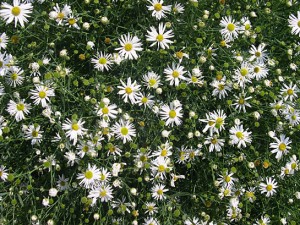 I dearly love Lamb's Ear (Stachys byzntina) but it can get out of control. I rip it out each week but even with this treatment it is back again the next week to torment me. I really hacked away at this plant and one week later it is looking like it will recover big time.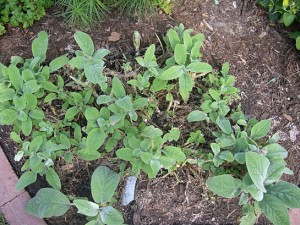 Some color combinations are real winners for me, this one is with hot pink with blue-purple. The vinca and verbena (Verbena 'Homestead purple") seem to love each other and I am all for it.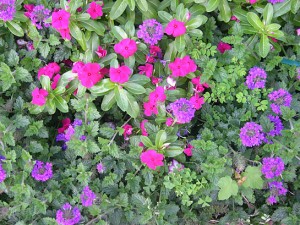 In another part of the formal garden the black grass (Pennisetum alopecuroides'Moudry' ) has come into bloom. This is a mixed blessing. I dearly love the look of the black spikes but I really hate pulling out all the seedlings it produces. But take note, I keep it prominently in my garden so you have to wonder why. Easy; there is no other plant with truly black flowers, especially black spikes. Besides, I am partial to grasses. This is a thug to love.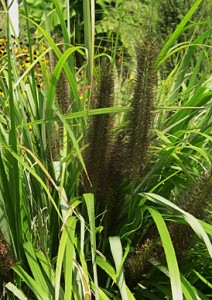 Besides, the black grass looks really chic with the black centered, yellow petals of black eyed Susan (Rudbeckia sullivantii 'Goldsturm').
The variegated yucca (Yucca filamentosa 'Color Guard') makes a nice companion for the yellow torch lily (Kniphofia uvaria
'Primrose Beauty'.)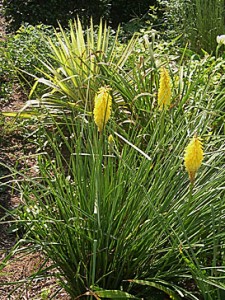 In the secret garden we were surprised to find one of our new clematis 'Little Ugly Duckling' blooming for the first time.  I think it is rather pretty so where did that name come from?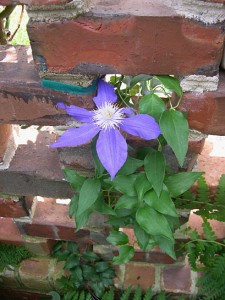 Growing nearby is a fern we collected on our New Jersey farm with its fertile fronds dominating the scene.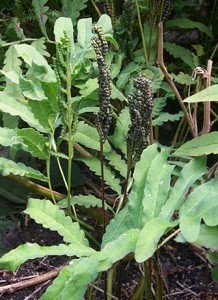 The rose garden is serene at this time; that is to say it is resting so that it can produce a brilliant display latter in the fall. I have set up my 32 gallon garbage cans with water and 12 cups of alfalfa pellets so that I can give them a kick off when I give them their last fertilizer this season with 17-17-17 next week. I noticed that many are already gearing up for the big event and are covered with buds. The head gardener and I sprayed the roses today and will do so one more time before calling it quits and letting nature take its course with the roses and fungi.
Chrysler Imperial still looks great and gives off its fabulous fragrance.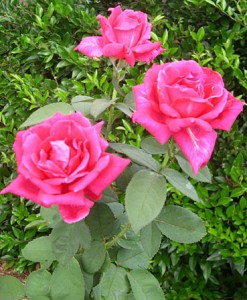 The red parterre is the most colorful and lovely right now and I thank the head gardener for talking me into turning the 4 center parterres into gardens for hybrid tees and minis.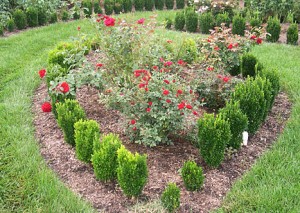 But Fall is in the air and the first plant to tell me is butterfly weed (Asclepias tuberosa) with its elegant pods. How I dearly love them.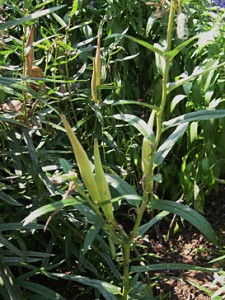 I look forward to the new plants that will bloom in my garden in the weeks to come but I know that time is running out so I will treasure each and every plant that can make itself known in my garden. Well, I take that back. I have some really pesky plants (weeds) that seem to arrive unannounced in every part of my garden and I spend weeks trying to route them out. I love plants but some of them seem to take advantage of that fact so I have to be very vigilant or accept "overgrown" as a fact of life. Gardening is not always easy but it is a lot of fun.

May 2009

| | | | | | | |
| --- | --- | --- | --- | --- | --- | --- |
| | | | | | 1 | 2 |
| 3 | 4 | 5 | 6 | 7 | 8 | 9 |
| 10 | 11 | 12 | 13 | 14 | 15 | 16 |
| 17 | 18 | 19 | 20 | 21 | 22 | 23 |
| 24 | 25 | 26 | 27 | 28 | 29 | 30 |
| 31 | | | | | | |

June 2009

| | | | | | | |
| --- | --- | --- | --- | --- | --- | --- |
| | 1 | 2 | 3 | 4 | 5 | 6 |
| 7 | 8 | 9 | 10 | 11 | 12 | 13 |
| 14 | 15 | 16 | 17 | 18 | 19 | 20 |
| 21 | 22 | 23 | 24 | 25 | 26 | 27 |
| 28 | 29 | 30 | | | | |

July 2009

| | | | | | | |
| --- | --- | --- | --- | --- | --- | --- |
| | | | 1 | 2 | 3 | 4 |
| 5 | 6 | 7 | 8 | 9 | 10 | 11 |
| 12 | 13 | 14 | 15 | 16 | 17 | 18 |
| 19 | 20 | 21 | 22 | 23 | 24 | 25 |
| 26 | 27 | 28 | 29 | 30 | 31 | |

August 2009

| | | | | | | |
| --- | --- | --- | --- | --- | --- | --- |
| | | | | | | 1 |
| 2 | 3 | 4 | 5 | 6 | 7 | 8 |
| 9 | 10 | 11 | 12 | 13 | 14 | 15 |
| 16 | 17 | 18 | 19 | 20 | 21 | 22 |
| 23 | 24 | 25 | 26 | 27 | 28 | 29 |
| 30 | 31 | | | | | |

September 2009

| | | | | | | |
| --- | --- | --- | --- | --- | --- | --- |
| | | 1 | 2 | 3 | 4 | 5 |
| 6 | 7 | 8 | 9 | 10 | 11 | 12 |
| 13 | 14 | 15 | 16 | 17 | 18 | 19 |
| 20 | 21 | 22 | 23 | 24 | 25 | 26 |
| 27 | 28 | 29 | 30 | | | |