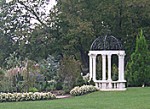 Fall is here; perhaps not full blown yet but the signs of it are distinct. The beautiful reds of autumn coloration can be seen in the leaves, self sown plants have popped up, berries are ripening, and buds for next years flowers are forming on some of the trees and shrubs. The Fall is a beautiful time of year but I am always sad to see the end of the gardening season for six months.Our common dogwood (Cornus florida) has red berries and a touch of red on its leaves.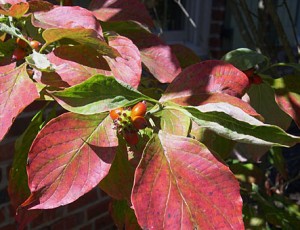 The Kousa dogwood (Cornus kousa) fruits are spectacular.
The  beauty berry bush (Callicarpa americana var. lactea) is covered with berries.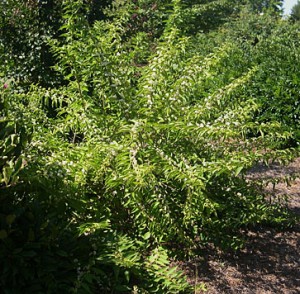 The white berries must be admired close up. I think I will get a purple berried variety to go with this one next year.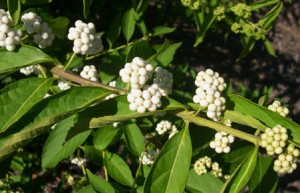 The Heavenly bamboo bushes (Nandina domestica) are producing berries but they have a long way to go until the ripen and turn bright red. I like to use them in Christmas arrangements.
The crepe myrtles trees (Lagerstroemia indica)  are so heavy with their fruit we have had to prune away much of it.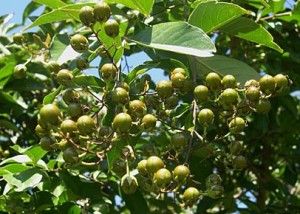 The Japanese Snowbell trees (Styrax japonicus) are also producing seed pods that look like lovely oval pearls.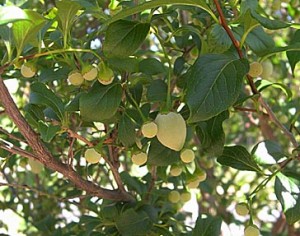 The astilbe seed heads are brown and will probably be left through the winter because they are quite lovely covered with snow.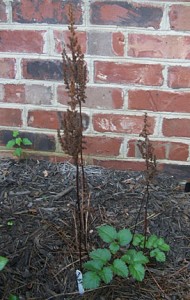 The hosta seed capsules stand tall in the bed; I will cut them soon.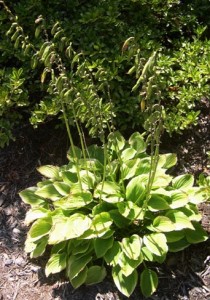 Viburnum tinus has next year's lower buds. It blooms early but is on the tender side so sometimes is lucky just to make it through the winter and produces no flowers.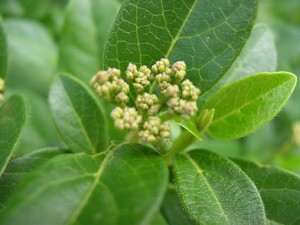 This bright Johnny jump up (Viola cornuta) grew from the seed of a clump I planted last fall.  I love these little surprises.
Our big project this summer was to create iris beds around the garden pool.  Here  is the area before we began.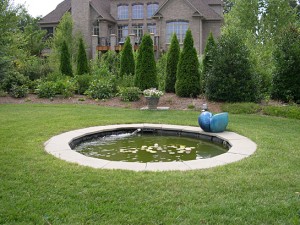 The head gardener laid the outline with a garden hose and then used Round Up to kill the turf. We then had a truck load of garden soil delivered and spread it over the entire bed area.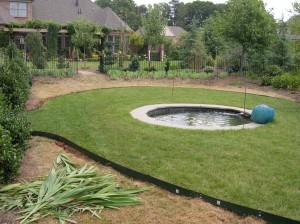 Transplanting all of our iris to the new bed was a long job and took every evening for over a week. I had tagged each iris with its color and bloom date last spring when they bloomed and we found that we had a huge supply of two tone purple (all the ones marked with an orange flag) and two tone yellow ones. We had much smaller numbers of white, pink, blue, and other fancy ones we had been given or bought. We had a few we knew were rebloomers so we organized the bed so that the fancier ones were in front.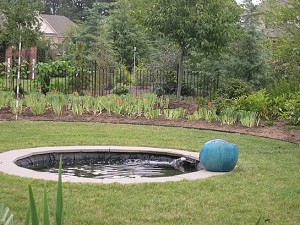 I cut back all the transplanted iris and they did not look promising.
Much to our surprise we had this rebloomer do its thing. Quite pretty!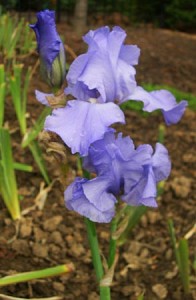 I look forward to more fall color, more Johnnies, and a garden full of iris next spring. My fingers are crossed.

| | | | | | | |
| --- | --- | --- | --- | --- | --- | --- |
| | | | | | 1 | 2 |
| 3 | 4 | 5 | 6 | 7 | 8 | 9 |
| 10 | 11 | 12 | 13 | 14 | 15 | 16 |
| 17 | 18 | 19 | 20 | 21 | 22 | 23 |
| 24 | 25 | 26 | 27 | 28 | 29 | 30 |
| 31 | | | | | | |

| | | | | | | |
| --- | --- | --- | --- | --- | --- | --- |
| | 1 | 2 | 3 | 4 | 5 | 6 |
| 7 | 8 | 9 | 10 | 11 | 12 | 13 |
| 14 | 15 | 16 | 17 | 18 | 19 | 20 |
| 21 | 22 | 23 | 24 | 25 | 26 | 27 |
| 28 | 29 | 30 | | | | |

| | | | | | | |
| --- | --- | --- | --- | --- | --- | --- |
| | | | 1 | 2 | 3 | 4 |
| 5 | 6 | 7 | 8 | 9 | 10 | 11 |
| 12 | 13 | 14 | 15 | 16 | 17 | 18 |
| 19 | 20 | 21 | 22 | 23 | 24 | 25 |
| 26 | 27 | 28 | 29 | 30 | 31 | |

| | | | | | | |
| --- | --- | --- | --- | --- | --- | --- |
| | | | | | | 1 |
| 2 | 3 | 4 | 5 | 6 | 7 | 8 |
| 9 | 10 | 11 | 12 | 13 | 14 | 15 |
| 16 | 17 | 18 | 19 | 20 | 21 | 22 |
| 23 | 24 | 25 | 26 | 27 | 28 | 29 |
| 30 | 31 | | | | | |

| | | | | | | |
| --- | --- | --- | --- | --- | --- | --- |
| | | 1 | 2 | 3 | 4 | 5 |
| 6 | 7 | 8 | 9 | 10 | 11 | 12 |
| 13 | 14 | 15 | 16 | 17 | 18 | 19 |
| 20 | 21 | 22 | 23 | 24 | 25 | 26 |
| 27 | 28 | 29 | 30 | | | |