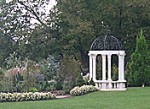 More rain mixed with some sun and warm temperatures have made lilies come into bloom big time! Both the daylilies and the true lilies have responded with equal vigor and have made their presence known in the garden. Yellow, orange and red dominate the scene with no white, pink, or lavender in the array…yet.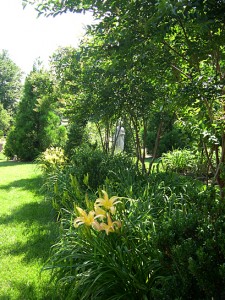 The daylilies along the sides of the crepe myrtle allee near the house are a feast for our eyes from the family room-kitchen area. I have no idea what cultivars they are because a friend of a friend gave them all to me when she decided to give up her daylily bed. I needed daylilies so I dug until I had my car full but have no names to go with any of them.
'Stella de Oro' are blooming away on one side of a path in the formal garden while 'Happy Return' blooms on the other. I thought it was a nifty idea to plant these two powerhouse miniature daylilies opposite each other but have since decided that I don't like golden yellow with lemon yellow so I need to move one or the other.
In the same border the Asiatic lilies, lemon-meringue yellow 'London' and bold scarlet Gran Paradiso, create masses of bright color that complement Gaillardia 'Goblin' nearby.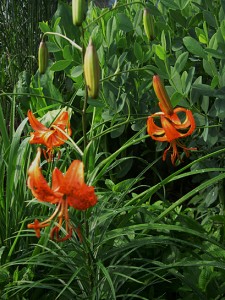 My favorite true lily, the one that I especially look forward to blooming, is just beginning. The recurved petals and brown spots of the Turk's caps like flowers of Lilium davidii never fail to amuse and please me. I planted similar lilies in other colors elsewhere in the garden but they take longer to bloom.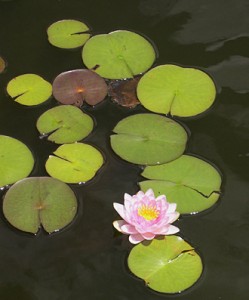 Our water lily, not really a lily at all, has put up a single flower. We have had trouble keeping our pool clear so our two lily plants have been struggling with murky water. A new bulb to zap the algae is on its way so help is coming if they can just persevere.
This has been a good week for trees and shrubs. Our young Stewartia trees (S. pseudo-camellia) have put forth their simple white blossoms with the extravagant mass of golden stamens.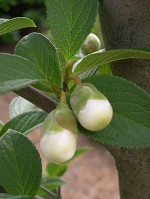 The buds are actually my favorite part of the tree; as they are breaking they look like a large pear shaped pearl with a satin texture and sheen that begs to be touched.
The magnolias are coming into their own. We don't have the huge southern magnolia but instead opted for the smaller 'Little Gem' and it is exactly what its name says. The flowers are large, white and wonderful and come without the messy leaves of its larger cousin.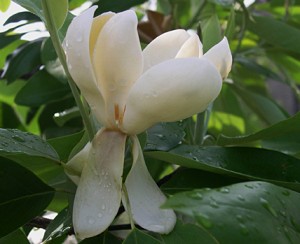 The native Sweet Bay Magnolia (M. virginiana) is not as imposing as either of the other magnolias blooming now but its small size and simple flowers give it a charm all of its own.

The sprays of flowers on our privet hedge (Ligustrum japonica) remind me of old fashioned white lilacs.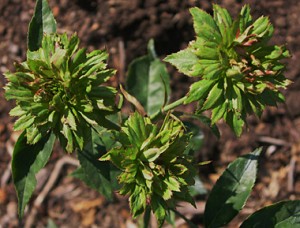 Most of the roses are busy preparing for their rebloom but a couple still offer something for the rose lover. The most unusual rose in my rose garden is 'The Green Rose'. The petals and sepals are all green so you might overlook these flowers unless you knew what to look for. This rose belongs to the group called Chinas that are hardy only to zone 7. Our hard winter this year killed many canes and the bush is having a hard time coming back but its scanty bloom makes it easier to appreciate each individual flower.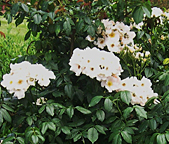 'Sally Holms, a huge rose that is begging for a pillar (head gardener, please take note), still offers its large trusses of pale pink flowers.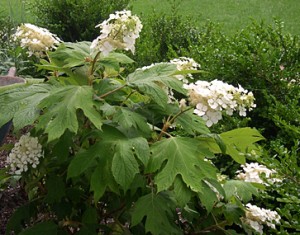 We don't have enough shade yet to grow a bank of hydrangeas but we were able to tuck this Oak leaf hydrangea (H. quercifolia) into a semi shady nook.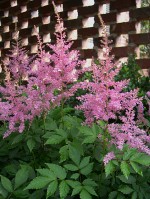 This is also astilbe week. My white, off white, bright white and pink astilbes are out in full bloom. I love their fluffy flowers and their lovely fern like foliage that makes them attractive all season long. They are beautiful in arrangements and I loved putting them into bridal work when I worked in a florist shop. Astilbes are really shade plants but grow in almost full sun here because I shower them water, to the detriment of other plants like the gardenia and Daphne odora in the same garden that I drowned.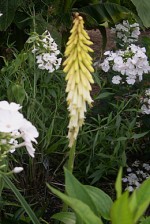 Many of the perennials that were blooming last week continue with a few additions. I especially like this pale yellow dwarf Kniphophia 'Candlelight'.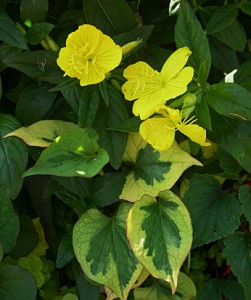 This Chameleon Plant (Houttuynia cordata 'Chameleon') compliments the Sundrops (Oenothera perennis syn. pumila) growing all over it. Some of the houttuynia develop red on the edges of their leaves and will complement the scarlet flowers planted nest to them.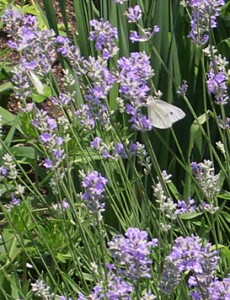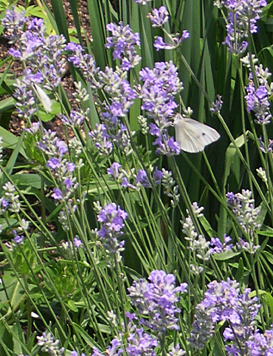 A cabbage butterfly finds my lavender delectable, as I do. In California I have a huge bush of lavender that blooms all winter and is the source of many flower arrangements. Different cultivar, of course, but I love lavender and grow it here even though it will probably disappear after 2-3 years.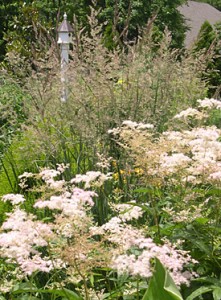 The pale pink of meadowsweet's (Filipendula palmata) fluffy flowers is echoed by the pale pink tint of the subtle flowers of Feather Reed grass (Calamagrostis x acutiflora) 'Karl Foerster'.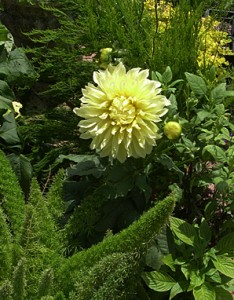 This 8″ across dahlia is one of my goofs. I started the tuber in a pot two months ago and never got around to planting it in the garden so here it is showing its huge bloom from its plastic pot. What a pity! I'm sure it would look better and be happier in the border.
I can envision it tucked in somewhere here.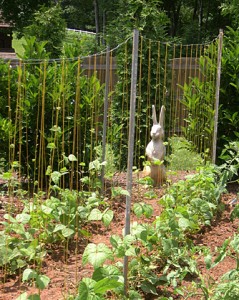 In the vegetable garden, the bush beans are growing up their strings nicely and we are anticipating a hefty crop. The head gardener and I have a running argument over whether to plant bush beans or pole beans. He puts up the strings so guess who wants bush beans?
One of our yellow squash is finally pregnant! This lone squash will be a tasty morsel by the end of the week. By the end of the month we will probably be inundated with them and so will our neighbors (ahem).
It's only the beginning of June and still plenty of time to find some new treasures for the gardens and grow some from seed for late season bloom. There is much work to be done!

| | | | | | | |
| --- | --- | --- | --- | --- | --- | --- |
| | | | | | 1 | 2 |
| 3 | 4 | 5 | 6 | 7 | 8 | 9 |
| 10 | 11 | 12 | 13 | 14 | 15 | 16 |
| 17 | 18 | 19 | 20 | 21 | 22 | 23 |
| 24 | 25 | 26 | 27 | 28 | 29 | 30 |
| 31 | | | | | | |

| | | | | | | |
| --- | --- | --- | --- | --- | --- | --- |
| | 1 | 2 | 3 | 4 | 5 | 6 |
| 7 | 8 | 9 | 10 | 11 | 12 | 13 |
| 14 | 15 | 16 | 17 | 18 | 19 | 20 |
| 21 | 22 | 23 | 24 | 25 | 26 | 27 |
| 28 | 29 | 30 | | | | |

| | | | | | | |
| --- | --- | --- | --- | --- | --- | --- |
| | | | 1 | 2 | 3 | 4 |
| 5 | 6 | 7 | 8 | 9 | 10 | 11 |
| 12 | 13 | 14 | 15 | 16 | 17 | 18 |
| 19 | 20 | 21 | 22 | 23 | 24 | 25 |
| 26 | 27 | 28 | 29 | 30 | 31 | |

| | | | | | | |
| --- | --- | --- | --- | --- | --- | --- |
| | | | | | | 1 |
| 2 | 3 | 4 | 5 | 6 | 7 | 8 |
| 9 | 10 | 11 | 12 | 13 | 14 | 15 |
| 16 | 17 | 18 | 19 | 20 | 21 | 22 |
| 23 | 24 | 25 | 26 | 27 | 28 | 29 |
| 30 | 31 | | | | | |

| | | | | | | |
| --- | --- | --- | --- | --- | --- | --- |
| | | 1 | 2 | 3 | 4 | 5 |
| 6 | 7 | 8 | 9 | 10 | 11 | 12 |
| 13 | 14 | 15 | 16 | 17 | 18 | 19 |
| 20 | 21 | 22 | 23 | 24 | 25 | 26 |
| 27 | 28 | 29 | 30 | | | |