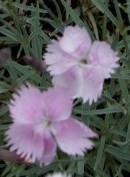 Pinks are in the genus Dianthus that is a member of the Caryophyllaceae, and includes carnations (Dianthus caryophyllus) and sweet william (Dianthus barbatus). Many different species of Dianthus are called "pinks' so it is difficult to determine which one Shakespeare had in mind. A good possibility is the cottage pink ( Dianthus plumarius), a native of southern Europe but grown in England in Shakespeare's time. This is a wild species but resembles the more familiar cheddar pink ( D. gratianapolitanus). It's petals, however, are more deeply cut and the flowers are borne in twos instead of singly. The fragrant flowers have five fringed petals and are white and rose in color. The stems have swollen joints and carry the linear, gray-green leaves. Pinks like full sun, excellent drainage, and slightly alkaline soil.
Shakespeare mentions pinks in two plays.
1. In Romeo and Juliet (act ii, sc. 4, 60) Romeo and his close friend, Mercuti, banter;
Romeo
A most courteous exposition.
Mercutio
Nay, I am the very pink of courtesy.
Romeo
Pink for flower.
Mercutio
Right.
Romeo
Why, then is my pump well flowered.
2. In the introductory song of Two Noble Kinsmen a maiden sings;
Pinks of odour faint.
The common name "pink", comes from the scalloped or pink edges of the flower. The generic name, Dianthus, is from the Greek dios meaning god, and anthos meaning flowers. The specific name plumarius means feathered, referring to the edges of the petals.