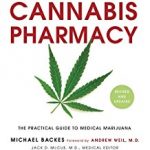 In this revised edition of Cannabis Pharmacy, author Michael Backes, presents an overview of the uses of cannabis as medicine aimed at the layperson and designed to encourage further inquiry and productive discussion between patients and physicians. The information covered includes a historical and scientific look at cannabis as a medicine, how to use medical cannabis, the different varieties of cannabis, and the uses of cannabis for specific ailments. Although the author does not hold a medical degree, he has specialized in cannabis science and policy issues and works for a Southern California consultancy.

Highlights of the book include discussions about of how cannabis works on the body and the interaction of cannabis with other medications, delivery methods including the problems of contaminants, and detailed profiles of fifty different strains of cannabis and how they produce different effects. The last section dealing with specific ailments includes a broad spectrum of problems from acne and Alzheimer's disease to autism, post traumatic stress disorder, and Tourette's syndrome. Not all the ailments listed, however, are actually treated with cannabis medicines. For example, osteoporosis is included because treatment with cannabis medicines "seems likely."
Although much information is included and is of value to anyone contemplating using medical cannabis, the book is probably already outdated. With so much research being carried out as a result of increasing legalization of medical marihuana, new strains are continually being developed and tested, and new discoveries in medicine are widening the base for cannabis use. Cannabis Pharmacy is a good introduction to the topic but is not a self-help book and should be used with a physician's supervision.
To buy Cannabis Pharmacy from Amazon.com Click Here.