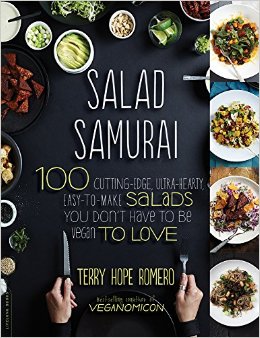 Terry Hope Romero's book, Salad Samurai, is a vegan based cookbook with hearty recipes for salad meals with a few recipes for side salads. The book has a hundred recipes in all but they include recipes for dressings and toppings as well as the salads themselves. To a non-vegan like myself the recipes seem creative, unique, and appealing but I am not used to eating miso, tofu, or nutritional yeast on a regular basis and so these ingredients are a novelty to me.

Perhaps the most exciting thing about the book is that it will tempt you to try new ingredients to make healthy substantial salads. Recipes like pomegranate quinoa holiday tabouli, pepperoni tempeh pizza salad, and gingery beets and lentils with Tahini and agave nectar, surely tempt the palette but unless you have a very well stocked pantry, most recipes will require you to make a trip to the grocery or specialty store. Some ingredients like lemongrass and Chinese five spice powder are relatively easy to find while others like nori  and Indian black salt, and  may be more difficult depending on where you live. Another fun aspect to the book is using ingredients in new way like using cashew nuts or chia seeds to substitute for some of the oil in salad dressings. Most recipes have a substantially long list of ingredients but considering that the salad is a whole meal, they are not overly burdensome.
The recipes are organized in a clear and useful way. The first group contains recipes for dressings, the second for toppings, the third for side salads, and the final group for main dish salads which are presented according to the seasonal availability of the main ingredients. Most recipes are accompanied by full paged color photographs of the finished product. Whether you just read the recipes or cook with them, Salad Samurai offers a culinary adventure.
To buy Salad Samurai from Amazon.com Click Here.