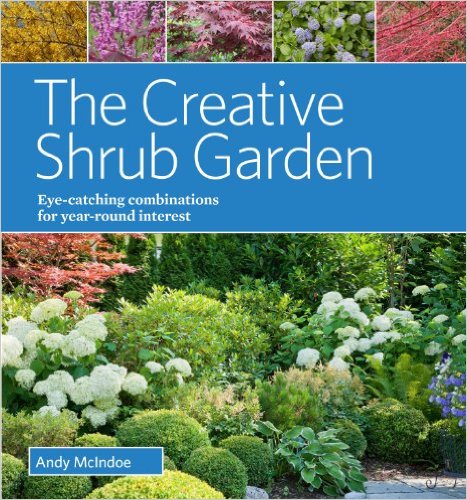 There are many books written on mixed borers but few that focus on shrubs. Andy McIndoe fills this void with his book, The Creative Shrub Garden,
that shows readers how to use shrubs in new ways based on the unique qualities that shrubs have to offer. With their versatility and diversity shrubs can be used creatively to create mood and style and this book shows you how.
McIndoe begins by setting forth the factors involved in choosing the right shrub including size of shrub and garden, lifespan of the shrub, challenging growing conditions, and the texture, color, fragrance, and shape of the shrub. The most helpful section of the book gives shrub combinations that reflect specific moods or styles. Moods include uplifting, cool and calming, mellow and glowing, reflective, indulgent, and warm and relaxing while styles include coastal, cottage, country, exotic, Japanese, Tropical, Mediterranean, and both contemporary and traditional urban. Each entry has a basic combination followed by suggestions for expanding the scheme depending on light and space with a list of alternative shrubs and lots of pictures of individual shrubs. A shrub directory that includes a description and picture of the authors "work horse" shrubs is followed by a section on the plating and care of shrubs including the use of shrubs in containers.
Like many gardeners I find making combinations of plants difficult and so need all the help I can get in this regard. McIndoe's book provides a lot of helpful suggestions although I would have like to see the plant combinations he describes in situ. The shrub directory lacks information on hardiness zones but is useful for all the pictures and information on when the plant is at its seasonal best. The author is British so the book is most suited to the British gardening experience but still valuable in the US for the creative ideas it explores.
To buy The Creative Shrub Garden from Amazon.com Click Here.